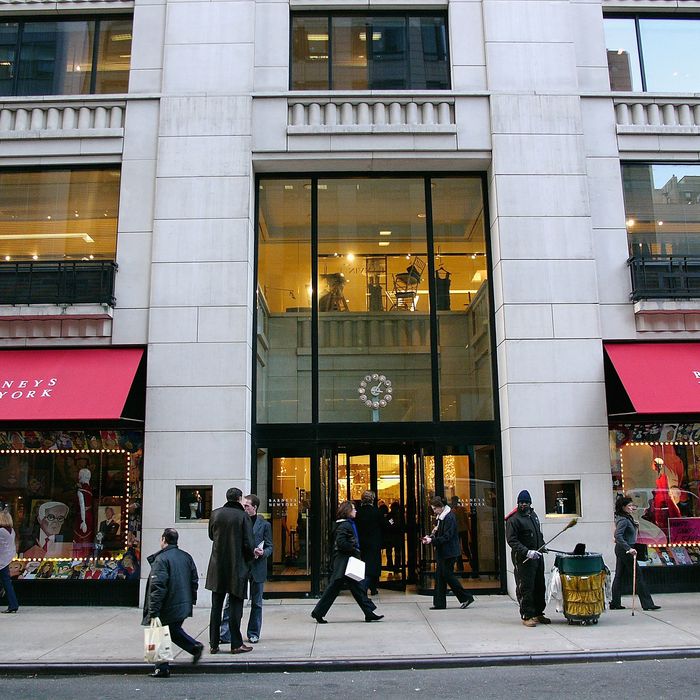 Brought to you by Perry Capital.
Photo: Spencer Platt/Getty Images
Barneys New York is in much better shape, and probably avoiding bankruptcy, after a major deal on Monday, WWD reports. 
In a debt-for-equity swap cleaning up the balance sheet, Barneys has reached an agreement with its largest lender, Perry Capital, as well as The Yucaipa Cos., another key lender, and its current owner, Istithmar World, to significantly reduce its long-term debt from $590 million to $50 million. Perry Capital, run by Richard Perry, now becomes the majority owner of Barneys.
Perry himself will also head up a new board. Perry Capital will take an additional three seats, Yucaipa and Istithmar will each get a seat, and Barneys CEO Mark Lee will receive a seat, totaling seven spots and representing "the consensual and cooperative way this transaction was accomplished," according to Lee. He hopes to use some of the freed-up funds for renovations, specifically at the Madison Avenue and Beverly Hills flagships, and he noted that Barneys.com will relaunch in the coming weeks.
WWD ends its article with a series of bullet points "About Richard C. Perry":
• Married to designer Lisa Perry.
• Patron of pop art.
• Worked in equity arbitrage at Goldman, Sachs & Co.
• Chief executive officer of Perry Capital, which he cofounded in 1988.
• A Scorpio.
• Enjoys long walks on the beach, but hates finding sand in his stuff later.
• Won't touch a plate if parsley's been on it.
• Secretly loves to run through the menswear sections and touch everything on each rack.
We slipped in a few of our own. Guess which ones!