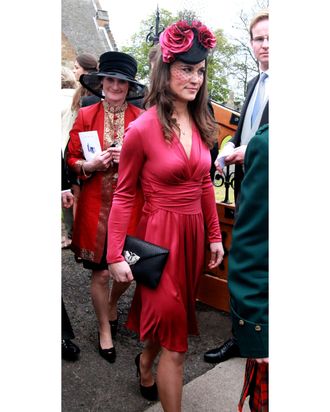 Pippa Middleton, in Kate's dress.
Photo: Rex / Rex USA
At first, being different from Kate was Pippa's big selling point. Unlike her sister, she left her house all the time, stayed out late with wealthy rapscallions at extravagant parties, showed her cleavage, and gave photographers ample opportunities to shoot her popular bottom (and — ahem — even more). All in all, she was generally much more exciting than Kate, aside for the whole being-married-to-a-prince deal. But following that infamous weekend in Paris when she partied with dwarves and bopped around with gun-wielding Frenchmen, it would appear she's made an effort to elevate her image — she's Kate-ing herself up, in other words. Her efforts came to a head this weekend when she wore a magenta-colored version of Kate's blue Issa dress — you know, this one from her engagement announcement — to a wedding in Scotland. But much more important: What will she wear when she moves to New York?