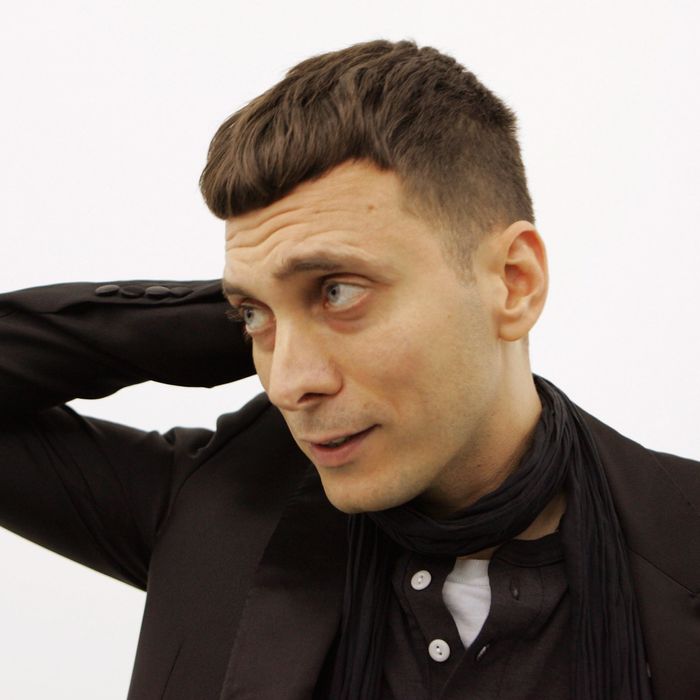 Hedi Slimane, keeping it under wraps.
Photo: Miguel Villagran/Getty Images
A spokesperson for Yves Saint Laurent announced yesterday that only buyers will be invited to see Hedi Slimane's first two collections — women's resort and spring menswear — and press will not be welcome. According to WWD, the spokesperson called these collections "transitional," and said they'll be presented sometime during the end of July or beginning of August. That means that the first time we'll get to see Slimane's YSL designs on a runway will be at Paris Fashion Week this fall. 
So why did YSL and its parent company, PPR, decide to go covert like this? And will they really bar all press, or just invite a few folks and forbid pictures, à la Tom Ford? It's an odd and unusual call for a major fashion house to forgo press attention — especially when they've got a hot new designer — for the sake of a comfortable "transition." Sure, Slimane hasn't designed clothes in a while, having spent the past four years pursuing photography, and this will be his first foray into womenswear. But it's notable that he's being treated with kid gloves (and being protected from the criticism that inevitably comes with press coverage) during the first months of his new appointment. Perhaps he requested this himself.
Meanwhile, it's quite possible that YSL is negotiating a pretty spread of the forthcoming resort collection with Vogue, as Tom Ford did, so as to keep tighter control over the images. Either way, it'll be quite some time before we see the clothes.