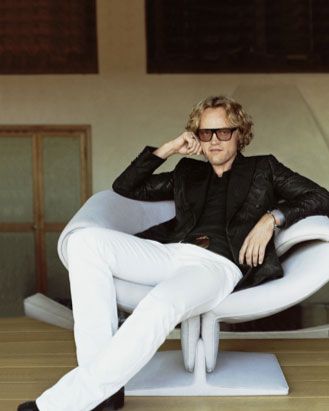 Peter Dundas, photographed for Harper's Bazaar.
Photo: Christopher Sturman/Trunkarchive.com for Bazaar
Pucci designer Peter Dundas sleeps in the nude for aesthetic purposes: "I like men's pajamas on women, but I don't like them on men," he explains in the latest's Harper's Bazaar "My List" feature. He also flies an hour and a half to work every day, since he lives in Paris and commutes to the Pucci offices in Florence. Other facts of note:
To wind down, I play with my brown Labrador, Hannibal. He's 10 now but still a puppy. I own 20 to 25 pieces of taxidermy; between whole deers, boar heads, croc heads, plus the birds, there are quite a few. I also collect insects. I don't know anymore how many I have. A lot of the animals have been relinquished to the basement, as someone managed to convince me that it might be disturbing to Hannibal.
In other words, that's one terrifying basement.