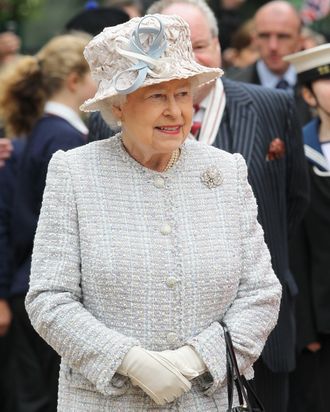 Sooo comfortable!
Photo: Chris Jackson/2012 Getty Images
Ahead of the Queen's Diamond Jubilee, her dress designer of eleven years, Stewart Parvin, sat down with The Sunday Times of London to describe what goes into clothing the monarch. He explained that his team uses a spreadsheet system with a name for each ensemble so that she doesn't repeat one for an important occasion. The accessories can be swapped in and out, and the shoes, well:
Parvin said: "[The shoes] have to be immediately comfortable … She does get someone to wear them. The Queen can never say, 'I'm uncomfortable, I can't walk any more.' She has the right to have someone wear them in."
Can't argue with that. Parvin added that, these days, the Queen sticks to dresses, instead of blouses and skirts.
"With a dress, you put a dress on, zip it up and its perfect; if you have a blouse you risk it coming out. Her whole wardrobe is based on complete practicality.

"There is always someone there photographing her. So when she gets out of a car, she can't pull her skirt up, tuck her shirt in, tighten her things; she gets out and she's ready."
Also can't argue with that.