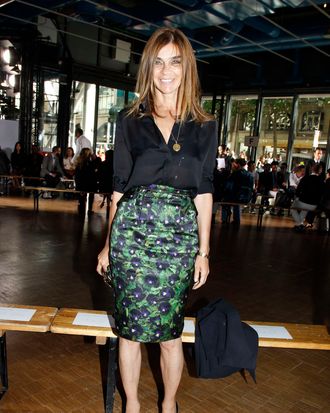 Carine Roitfeld.
Photo: Eric Ryan/2011 Eric Ryan
More Carine news: The launch of her new magazine, CR Fashion Book, will be the subject of a documentary film called Mademoiselle C., according to film trade publication ScreenDaily. It will be directed by Fabien Constant, who previously worked as a producer on the 2007 French television documentary Marc Jacobs & Louis Vuitton and confirmed that interviewees include Carine-friendly bigwigs like Tom Ford, Karl Lagerfeld, and Donatella Versace. Although it's still being shot, Paris-based movie sales and acquisitions company Elle Driver — which, incidentally, also worked with R.J. Cutler on The September Issue — will start shopping the film around at Cannes next week. 
More details from ScreenDaily:
Mademoiselle C. [is] an upbeat, fly-on-the-wall documentary following the flamboyant former Vogue Paris editor-in-chief Carine Roitfeld's as she works on the launch of her new fashion magazine CR. It is described by [Elle Driver] as "a lot of fun".

Director Fabien Constant has been granted unprecedented access to Roitfeld's private and professional life… Shooting has started and will carry on right up until the real-life of launch of CR this September [sic].
How exciting! A release date is still a ways off, but this will be worth watching, especially as the magazine staffs up and kicks off. In related news, Julia Restoin-Roitfeld is due next week — surely le bébé Roitfeld will get some screen time.