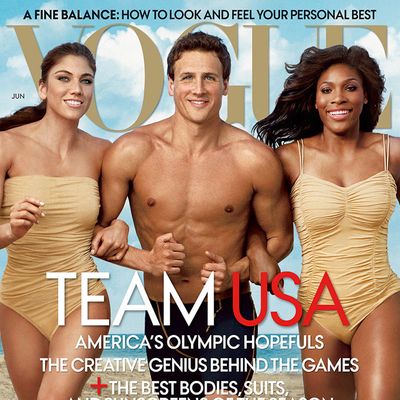 Ryan Lochte, a six-time Olympic-medal-winning swimmer, becomes the fourth man to ever cover American Vogue for the magazine's June issue, which also features soccer player Hope Solo and tennis champion Serena Williams (both of whom are also Vogue cover first-timers, although Serena and her sister Venus have been featured in the magazine several times). This is the first time a man has ever been on the cover of Vogue without a female model: The previous male cover stars — Richard Gere, George Clooney, and Lebron James — were photographed with Cindy Crawford, Gisele, and Gisele again, respectively. You can see those covers in our slideshow.
It's not unusual for Vogue to make a big deal out of the Olympics, and they'll take almost any excuse to run arty spreads of trim, muscular athletes wearing skintight clothing and bounding across grassy lawns or sandy beaches, as they do in almost every annual "Shape" issue. The 2008 Olympics marked the last time a male athlete (Lebron) was on the cover. (The photograph of him roaring at the camera, tossing a basketball like an eggshell, and clutching an ecstatic-looking Gisele by the waist drew controversy for "re-enforcing stereotypes of black men as aggressive and dangerous.") That April 2008 issue also featured profiles of top Olympic athletes, as does this one.
So, what does it mean that three athletes — one of them male — are on this month's cover? Anna Wintour's inclination to marry fashion and sports is a canny one, and it's a direction she's been taking for some time now. She frequently attends basketball games and tennis matches in the New York area, but she also invites athletes into the fashion world, hosting them at Vogue events and featuring them in the magazine. Putting three of them on the cover may be a watershed moment, but it's been a long time coming. 
Of course, Wintour is clearly aware of the overlaps between the sports and fashion worlds. Sure, a lot of fashion fans may not be interested in sports — and vice versa — but the two industries have a lot in common. Their stars become huge celebrities. Both embrace extreme physical ideals, nutty personalities, and showiness. What athletes wear, both in and out of the game, is carefully examined. The way people define themselves by what they wear is not unlike how people define themselves by certain sports teams. Fashion and sports can each involve more than a fair amount of spandex, glitter, and sequins, and both utterly frivolous and culturally essential.
What's more, this cover probably has something to do with Vogue's new pact to fight eating disorders, which involves using healthy models at all times. The June issue will also feature a spread dedicated to the new initiative (it's unclear whether this spread and the "healthy model" spread are one and the same).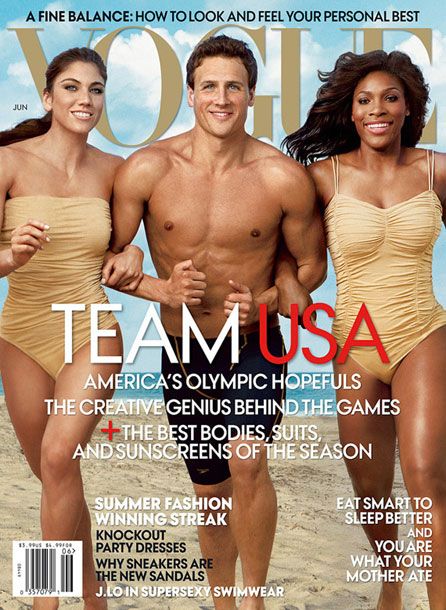 June 2012
Hope Solo, Ryan Lochte, and Serena Williams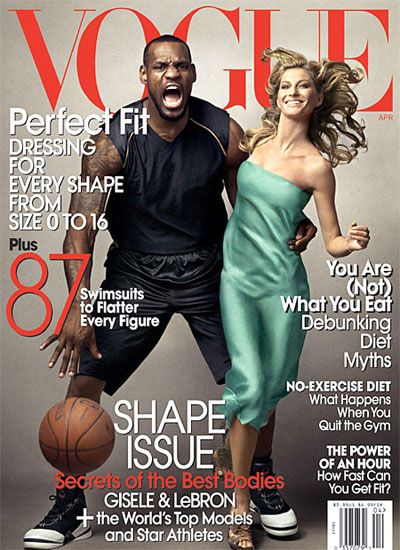 April 2008
Lebron James and Gisele Bündchen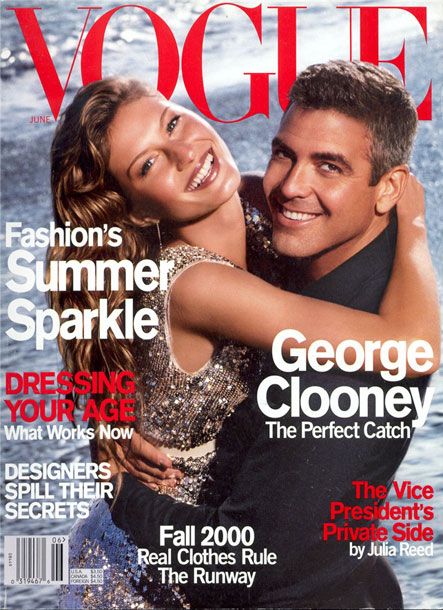 June 2000
Gisele Bündchen and George Clooney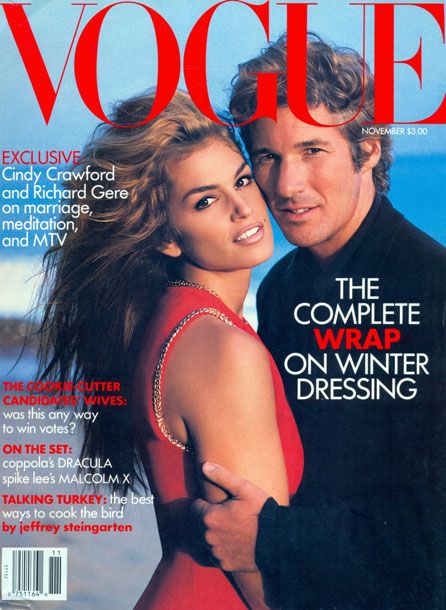 November 1992
Cindy Crawford and Richard Gere