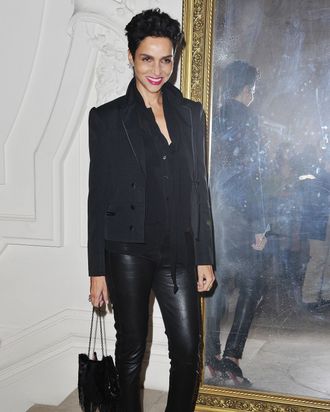 Newly-tapped Schiaparelli spokeswoman Farida Khelfa.
Photo: Pascal Le Segretain/Getty Images
Just in time for Schiaparelli to get a healthy dose of publicity from the Costume Institute exhibit, Italian fashion magnate Diego Della Valle announced today that he plans to relaunch the storied French fashion house, which has been closed since 1954. Della Valle, who is also the head of Tod's SpA, bought all of Schiaparelli's trademarks and archives back in 2006. He has now tapped French model and filmmaker Farida Khelfa to be the brand's spokesperson (similar to how he enlisted Ines de la Fressange to front the relaunch of French accessories label Roger Vivier in 2002), and says that he'll announce a designer in September. The new label will focus mostly on accessories, makeup, and cosmetics, with some clothes as well.
Della Valle tells WWD:
The idea with Schiaparelli is to propose the brand with all its modernity, and represent dreams, art and all the most sophisticated things we can do… This brand doesn't have to get involved in the frenetic world of numbers, accounts and dimensions, but it just has to express itself at its best. The heart of this project will be the Parisian maison in Place Vendôme, in the original location where the first atelier was.
Given the timing and the relatively limited scope of this relaunch, it'll probably do very well. This has surely been part of the plan with the Costume Institute exhibit all along.