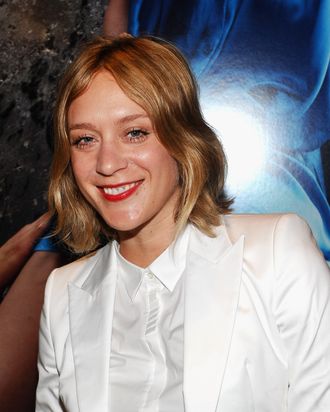 Chloe Sevigny.
Photo: Jamie McCarthy/2011 Getty Images
Chloë Sevigny has expressed mixed feelings about the fashion world before — she once said it "irks" her to be told she's stylish, and last year, she told the Times she "hates going to fashion shows." In an interview on British radio yesterday, she explained the problem to journalist Jenni Murray: 
I don't enjoy going to fashion shows. It's very high school, it's very "the most popular kids in the front row," and everybody's checking everybody else out, and you have to do all this press and get your picture taken … It's not fun for me — it's work.
When asked why she still attends some shows, she replied, "I go occasionally to friends' shows to support them," then added, laughing, "Or if I'm getting paid, if I'm going to be honest." And how does she feel about much-celebrated "personal style"?
It helps me make a lot of money, so it's kind of important. [Laughs.] It's kind of a hobby … I like getting dressed, I like putting myself together. I admire people who put a little effort into their style. But as far as my face in the industry, it has been pretty lucrative for me, especially [because I've done] mostly independent films throughout my career [and have been] able to do some advertising on the side. I think that those companies are interested in me because I don't work with a stylist — it's me, myself, it's my personal style. They can sense that.
Of course, Sevigny was careful to emphasize that she still appreciates great fashion (even if she'd rather not join the celebrity scrum in the front row). She rounded out the interview with praise for her favorite designers, saying that she loves Scottish designer Christopher Kane and thinks Nicolas Ghesquiere "is the most talented person in the field today." So, in other words, she'd still appreciate invitations to their shows, please.