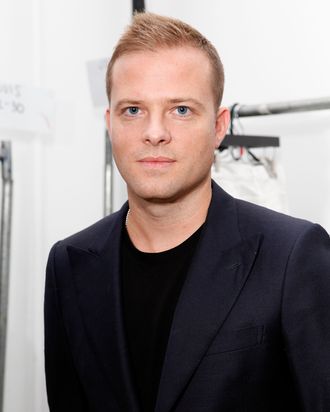 Simon Spurr, full of hope.
Photo: Cindy Ord/Getty Images
The New York Times asked Simon Spurr the tough questions ahead of next week's CFDA Awards, where he'll likely face a row of reporters waiting to drill him on his departure from his eponymous label two-and-a-half months ago. While the company "temporarily" ceased all product loans and publicity almost immediately, it sounds like things have grown more serious:
For now, retailers have been told not to expect deliveries of Mr. Spurr's fall collection. Most of the company's stock from previous seasons has been sold off and most of the remaining employees, roughly nine in total, have been let go. Meanwhile, Mr. Spurr now says he might be open to returning to the company, but only with a new strategic partner.
Say what? Spurr told the Times: "I'm working together with my business partner and investor to find a resolution. I have high hopes to come back to the company one day. I'm looking forward to whatever the next step would be, whatever it is." He doesn't go on the record with why he left, but the conflict seems to be "about the positioning of his clothes at the high end of the market." Sigh. Can't we all just position the clothes how Simon wants get along?