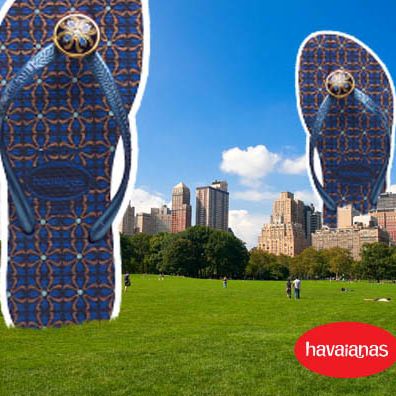 BRINGING BRAZIL TO YOU
Feel like you're walking along the Copacabana—even if you're just cruising around town with a café-longo or cooling out with a happy-hour caipirnha and bossa nova in the late afternoon sun. Step out in Havaianas and step into a Brazilian state of mind this summer wherever you are.
SIP A FRESH COCONUT
Grab a straw and cool off with one of the hippest refreshments this summer: a freshly tapped coconut. Paired with Havaianas, this ultra-hydrating elixir is a summer style statement.
ORDER A CAFÉ-COM-LEITE
Seek out Brazil's famous coffee and try chocolates sourced from Bahia and Pará for an ultra-authentic coffee break.
SAMBA A SATURDAY AFTERNOON AWAY
Find a local spot with live samba bands, order up a caipirinha pitcher, and dance the late afternoon away in your Havaianas.
SAVOR THE PERFECT CAIPIRINHA
Pick up fresh limes and a bottle of cachaça, and check out recipes online for delicious variations on Brazil's national cocktail incorporating juices, like guava and passion fruit.
GET FIT WITH CAPOEIRA
Sign up for a beginner's class to learn the basics of this Afro-Brazilian dance-martial art form and then "ginga" your way into bikini shape with this super-aerobic workout.
SNAP UP A SUPERMODEL SWIMSUIT
Get Brazil's modern take on the classic yellow polka dot bikini with signature swimwear lines, like Sao Paulo-born designer Neila Granzoti Rudden's diNeila.
KICK BACK WITH BOSSA NOVA
Find an artisan cocktail lounge or local jazz club with a sultry bossa nova soundtrack, a musical genre fusing samba and jazz popularized in the 1950s and 1960s.
DISCOVER RODISIO-STYLE BBQ
Head to a local churrascarias to experience rodisio-style dining. Pay a prix-fixe, or preço fixo, and then enjoy ample serving of freshly grilled beef, pork, and chicken.
ADD COLOR TO YOUR HOME
Accent your apartment with some Sao Luis-inspired, statement tiles renowned for their vivid designs in bright colors like tejo blue, white, turquoise, and yellow.
THROW ON A WOVEN SUNHAT
Pair a handcrafted, Barreirinhas-style straw hat with a pair of chic sunglasses for a carefree day in the park or at the beach.
GET A RENDA DI BILROS-STYLE COVERUP
Pick up a handmade crochet top, which has become a trendy summer staple, from a site like Etsy for a look that nods to Brazil's traditional bobbin lacemakers.
Please note that the content of this sponsored page is provided by an nymag.com promotional partner and not by the nymag.com editorial team.