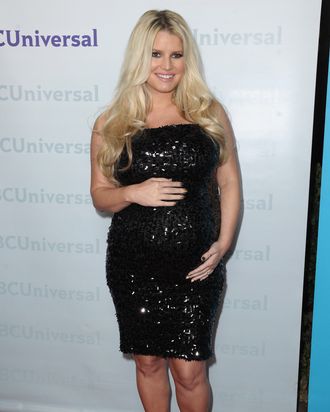 Use your imagination.
Photo: Alberto E. Rodriguez/Getty Images
Jessica Simpson has sold the first pictures of her newborn daughter, Maxwell Drew Johnson, to People magazine for a relatively paltry $800,000, WWD reports. Not only is this quite a low sum compared to other celebrity baby photos (People paid Jennifer Lopez $6 million for exclusive pictures of her twins, while Nicole Richie got $1 million, and Christina Aguilera got $1.5 million, according to Forbes), but apparently there weren't even any counterbids from other weeklies.
But don't worry — Jessica and little Maxwell aren't coming away from birth penniless. Instead of running baby photos, the new issue of Us Weekly features a cover story on Simpson's new, $4 million weight-loss deal. Because who really needs baby money when you can get diet money?