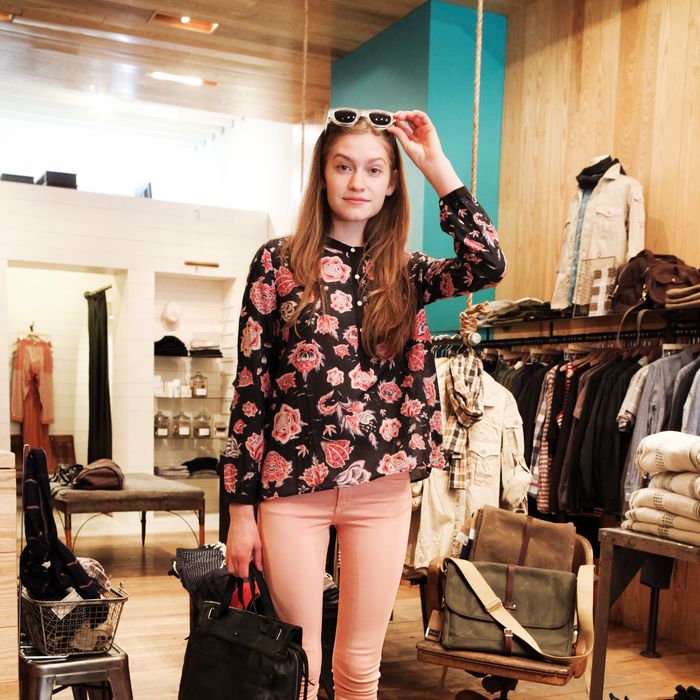 Already big on the runways and red carpets, pastels are a perfect palate cleanser for summer — a happy medium between out-there neons and washed-out whites. For this edition of Take Five, Marilyn model Shane Seng took a pair of Easter-egg-pink jeans by Joe's Jeans ($158) to five New York City boutiques, where staff members created a look with their store's offerings. See what Stuart & Wright, Fivestory, Thistle & Clover, Otte, and End of Century came up with in our slideshow.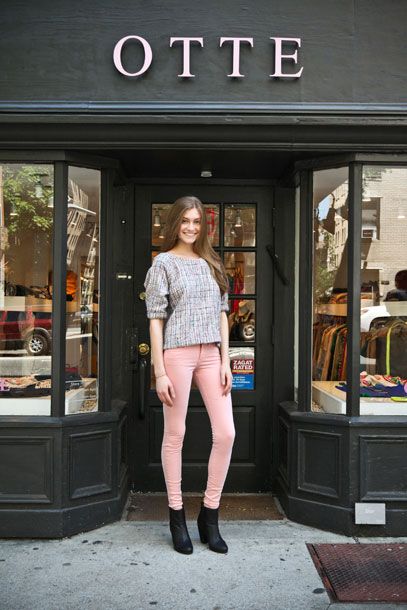 Otte
In the words of store manager Vanessa Torres, Otte's Madison Avenue location is where "downtown meets Upper East Side chic." Torres picked out an Otte tweed top in blue ($275) for its versatility — dress it up or dress it down. With so much going on in the top, she chose to keep the rest of the outfit simple, adding Iwona Ludyga's dainty Lacrimosa bracelets ($69 each) and rag & bone Classic Newbury boots in black ($495).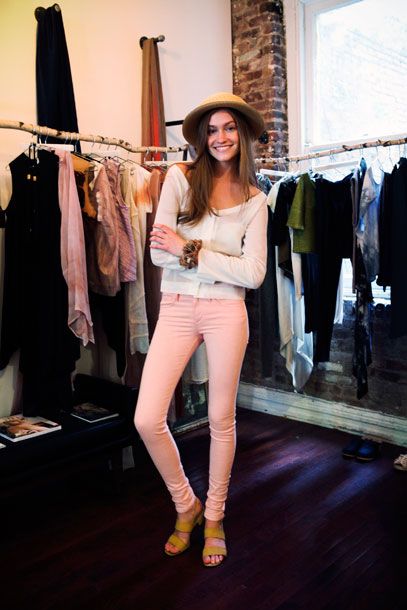 End of Century
At End of Century, the focus is on statement pieces that can transform a look. "In the summer, being able to throw on something that's easy but can complete the outfit is key," co-owner Claudia Martinez Reardon explained. Reardon chose a transparent white cotton Viollete top ($171), which she layered over an Ambit crop tank ($127), and accessorized with a Martine Ali Raw Polish Rock Crystal bracelet with rose-tone wire ($385) and a pair of vintage sandals (not for sale). To finish, she added the Straw Helmet hat by Ambit ($176), which made the ensemble feel very Out of Africa.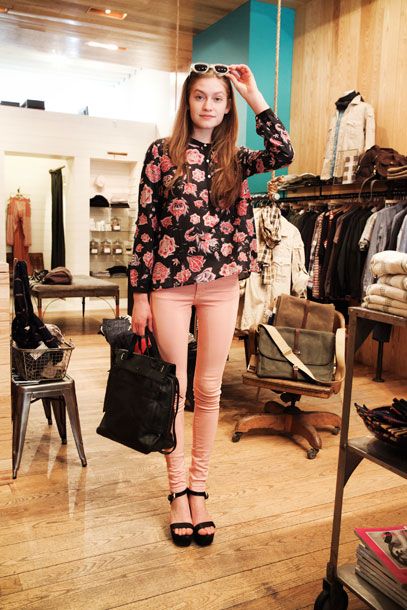 Stuart & Wright
"We like to keep our girls understated and modern," Alec Stuart said of his store's style perspective. The Brooklyn boutique's co-owner paired the jeans with a breezy Isabel Marant Étoile Hector top ($380), which highlighted the pant's color without being too matchy. He then added Acne Estelle wedge sandals ($500), a Jerome Dreyfuss Pedro calfskin tote ($1280), and Acne Frame sunglasses ($350).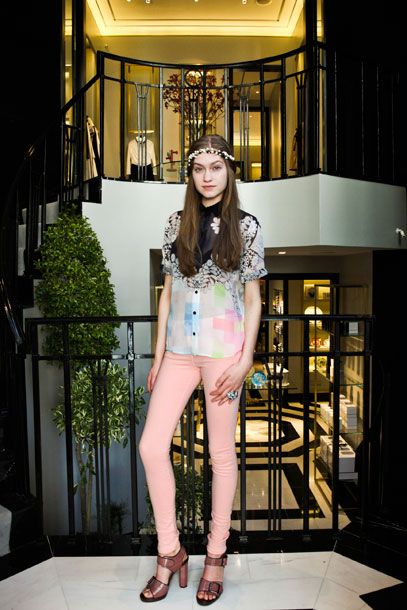 Fivestory
Fivestory founder Claire Distenfeld went for a flower-child vibe, choosing a playful Preen doiley shirt ($845) and pairing it with a statement-making black-beaded and pearl Maison Michel headband ($415). She added further flash with Chrissie Morris IDA stingray heels ($1185) and an Erickson Beamon Rear Window ring ($440).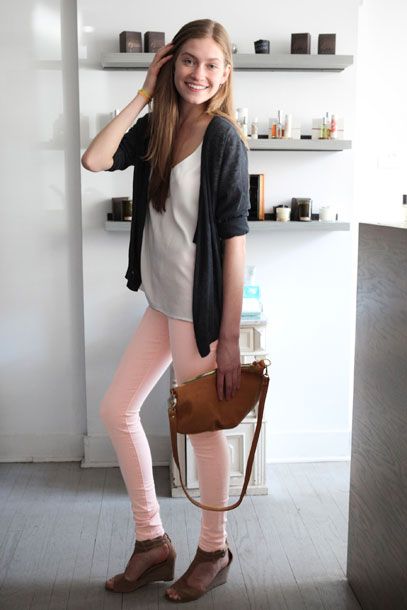 Thistle & Clover
Co-founder Rand Niederhoffer wanted to make the "trend-forward" pastel pants relatable, so she started with a Joie matte silk blouse ($175) as a neutral base and added an American Vintage cardigan ($124) for a contrast in texture. She accessorized with Marais T-Bar wedges in smoke ($160), neon Nektar di Satgni bracelets ($55 each), a simple Deborah Wright necklace ($80), Sarah Heely hoop earrings ($95), and a Clare Vivier bag ($253). "The total effect is intended to be one that's both sophisticated and feminine," said Niederhoffer.