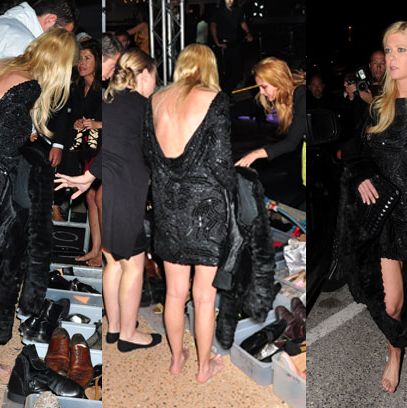 Tara Reid's shoe expedition.
Photo: Splash News
As is customary with yachting, party guests were required to remove their footwear before climbing aboard Sean Combs's boat in Cannes yesterday. But upon their return to shore, guest Tara Reid found herself shoeless. Clutching her black fur coat, she pawed through the large plastic bins piled high with Louboutin sandals and Armani loafers, but to no avail. Blast, she thought to herself. I knew that Kim Kardashian had her eye on my wedges.* She considered snatching up a nice pair of Jimmy Choos,** but then realized there were too many people watching; instead, she wandered into the parking lot barefoot*** and demanded a piggyback ride to the nearest limo.****
*We have no way of knowing if this is true.
** If this is true, Melissa George says it's okay.
*** This is true.
**** This is not true.