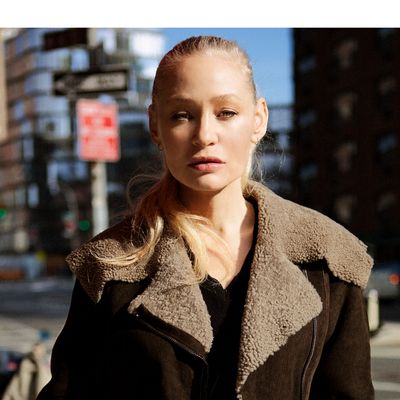 Melanie Ward For Another Magazine
Photo: Marc Pilaro/Courtesy of theCollectiveShift
For more than 25 years, Melanie Ward has been at the forefront of image-making. The British legend started her career in the eighties and was largely credited with capturing the birth of grunge, working alongside luminaries like the late Corinne Day, Kate Moss, and David Sims. In fact, it was Ward who styled Moss for that now-famous The Face cover. When the tides in fashion shifted from grunge to minimalism in the nineties, Ward started her thirteen-year-long collaboration with Helmut Lang, serving as the muse and stylist. She then went on to consult for Calvin Klein, Jil Sander, and Karl Lagerfeld. We recently spoke with the stylist about her prolific career, why she identifies herself as a modernist (and not a minimalist), and her fashion obsession.
You first came on the scene in the eighties with the whole grunge craze. When you think back to those times, what do you make of it today?
It was just all very grassroots. There were a few of us friends working together. We had no money. There was no desperation there, there were no career aspirations, there was no thought of making money or becoming famous. All we really wanted to do was just experiment, have fun, and create. And in those days, when we started to be published, eventually I would use designer clothes, but initially the kind of clothes that I was [pulling for a story] didn't necessarily exist in designer showrooms, so I spent a lot of time in market, looking for vintage clothes that I would customize. It was an incredibly creative period for me, it really was … Ironically, we were all just trying to survive. It was very much this incredibly glamorous time in fashion with Amazonian models, and I feel like our choice of models was [different]. Listen, Kate [Moss] is incredibly beautiful, but there's something more tangible about her. It was also that we were documenting kids, as opposed to it being in a studio, with everything perfect and ironed.
What's interesting about your career is that some people might identify with your early grunge works, while others might think of you as a pioneer of the minimalist movement.
I think it's quite fascinating that many people call me a minimalist. I actually had a whole discussion with Mario [Sorrenti] a couple months ago, where he said, "Everyone thinks you're a minimalist." I also had a conversation with a journalist recently where she said to me, "The last thing I see you as is a minimalist." And I totally agreed with her. She described my work as actually being very seductive, which I found quite interesting because there is a sexual tension there. You know, maybe in its raw state. I have this insatiable curiosity. I definitely like always questioning things. I wonder how they could be better or how they could be more modern … I'm definitely a modernist.
Well, whatever people choose to label you is kind of irrelevant, as it's pretty clear that you've consistently been ahead of the Zeitgeist. What inspires you when you're on set styling for a shoot?
I feel that it always comes from my gut. I just have a feeling. You know, lots of people are inspired by a movie, and I [can] connect cinematically [with a film]; I can be blown away by the art direction or the colors. Of course, that is inspiring, but I would never be inspired to re-create a period piece from the fifties. If I did that, in my mind, that character would be a girl from today, playing and dressing up in her mom's clothes from the fifties.
Which ties back to you being a modernist and always being present.
Yes. Listen, I'm very inspired by vintage clothing. I can't lie. That's always been my thing. I'm, like, such a vintage whore from the age of 13. However, if I was working on a collection, I would want to question how I could make [a vintage piece] more modern or in an image, I would wonder, How can I twist this to make it more personal to the character [I'm styling]? Or, I like to throw things off. I don't like things when they're literally just lifted.
Among your many hats, you've also tried your hand at designing, releasing Blouson Noir and also working at Balmain. Do you have any plans for returning to designing anytime soon?
Quite a few people have approached me to do capsule collections. I'm going to start doing some little things actually. The thing is, I'm really interested in brand-building. I think Christine [Lavigne, Ward's agent] told you already — we literally did, like, 26 interviews, it was, like, insane. It went into the best stores in the world, and I just feel really blessed that that happened. People are kind of a little upset with me that I didn't carry on, but my answer to that is I actually realized that, in order to sustain that, I would need some kind of structure around me. It's easy to do it all yourself for one season, but I feel like, going forward, if you're building a brand, you need some kind of business structure, and that wasn't the case.
What do you think of this generation, with Twitter, street style, and nightly social functions? Do you think doing it all really has an impact on one's career?
You know what I think? I think that clearly the world has changed. I think that great things have happened with the Internet and social media. It's amazing how it democratized fashion as we know it; it's opened up fashion to so many people. I think that it definitely wasn't the case when I started out that we needed to socialize. It was very much about our work that spoke to people. I think there's nothing wrong with that, as long as you're concentrating on your craft. Listen, I would never judge anybody, and I feel like whatever works for somebody, works for them.
Outside of fashion, what are you like?
I'm very holistic as a person. I think it defines me as much as my being a fashion girl, so to be honest with you, I'm constantly reading about some new holistic approach [to life]. I've been a very hardcore believer in holistic living for as long as I've been in fashion.
Let's close the interview with a few general questions. First: What trend do you love right now?
I hate trends, they're awful.
Where do you shop?
I still go to all of the vintage stores, I must tell you. There's lots of cute little stores in the Lower East Side, and I still always go to Resurrection. And then I'm always in Barneys. I love Opening Ceremony. And you know what? I also shop on eBay.
Are you a heels or flats woman?
I think I'm a bootaholic, actually. I think I need to go to rehab for my boot obsession — and Chanel kind of went through this phase of doing amazing over-the-knee boots with like a mid-heel, which I, like, obsessively bought, and they're totally comfortable. I've had them forever, and I really just put them on and pound the pavement.

What styling tip would you give to the everyday woman?
I think there's nothing worse than when I see a girl completely struggling in the street wearing heels that she can't walk in. I feel like the most important thing is being comfortable in your skin, and I feel that it's really important to find your comfort zone and stick to that. Clearly, be aware of what's going on in fashion, but don't be a victim or a slave to fashion … The thing is, I think fashion's amazing because I think that fashion seriously can empower people … You really just need to know yourself, and then I feel like whatever you're wearing, you'll just look confident and comfortable.