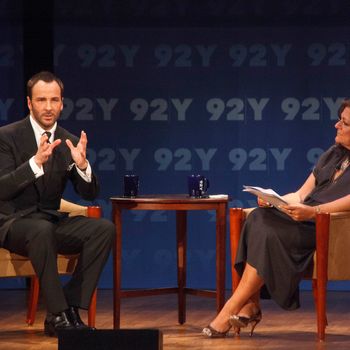 Tom Ford and Fern Mallis.
Photo: Joyce Culver for 92Y
Designer Tom Ford is a great believer in astrology, so at last night's talk for the 92Y Fashion Icons series, he and Fern Mallis (an Aries, if you must know) dug right into his Virgo nature. "To really obsess about a millimeter of a shoe heel, it helps to be a Virgo," he said. Apparently his Virgo-ness also caused an aversion to book bags when he was a kid. "I thought it looked messy," he said. At his Texas school, he was bullied by kids swinging rock-filled socks and slitting his bike tires. (Perhaps that's part of the reason he'll sit on the judging panel for the Gay, Lesbian and Straight Education Network's Think Before You Speak film competition, which is currently accepting submissions.)
The conversation then turned to Ford's sexuality. "Did you think or know at that time that you were gay?" asked Mallis of Ford's childhood. "No," responded Ford. "Am I gay?" That brought laughter, but Ford went on to say how much he hates the classification. "I'm also anal-retentive and a pain in the ass," he added. "Instead of being gay, we'll call you a pain in the ass," replied Mallis. Without missing a beat, Ford said,"I hope you weren't trying to make a pun there."
Their banter got lots of laughs, but Ford was serious when the question of marriage came up, noting that until the federal government recognizes same-sex marriage, Richard Buckley (Ford's partner of 25 years) would not be entitled to the same rights as a spouse if he were to die — even if they did marry in New York. So, he said, they'll wait for California and hope for federal recognition. (You can read Buckley and Ford's love story in their own words in Out magazine.) Ford also said he's always wanted children, and he knows he'd better get started soon. ("Am I aging?")
The designer also discussed his days as "a good corporate soldier," saving Gucci from the precipice of irrelevance and bankruptcy, and, later, LVMH's attempted takeover. When he took the helm at YSL as well, he knew that designing both labels simultaneously wouldn't be sustainable, but added that "people seem to think when you're really successful, you're the answer to all their prayers." He lost a couple of friends during his YSL years, namely Yves Saint Laurent himself, who hated Ford's creative direction and told him so via beautiful handwritten letters.
When Ford left Gucci Group in 2004 — drinking too much and unhappy — he said he thought he'd retire, but found himself bored to death on the golf course despite his wooden clubs and custom shoes. He found a new creative outlet when he wrote and directed his impeccably detailed film A Single Man (for which Colin Firth received an Oscar nomination), but found Hollywood a little slow for his taste, having grown accustomed to designing sixteen collections per year. Film, he found, was his mode for creative expression, and fashion was his industry.
"I'm a commercial fashion designer," he said of his splashy return. "I've always designed jackets with two sleeves … It is not art for me." But don't expect Tom Ford for H&M anytime soon. "What excites me is the very best," said Ford. "And that tends to cost money … I want to design for people who get excited about the same things I do." (Apparently, that means people in his socioeconomic bracket.)
Recent highlights in his career, he said, included Gwyneth Paltrow's dress at the Oscars. "I loved the simplicity of it," he said. "There is so much stuff on those red carpets." And he enjoyed meeting Joseph Altuzarra at Monday night's Met Gala. He's an admirer of Altuzarra's work, but he also gave some cautious advice to other aspiring designers in the crowd: "If you love it, you'll have a great life," he said. "But if there's anything else you could be happy doing, do that."