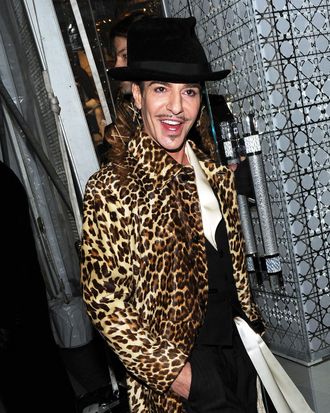 Maybe! But probably not.
Photo: Jason Kempin/Getty Images
Diego Della Valle has divulged more details about the forthcoming Schiaparelli relaunch. Here's a rough timeline, according to the FT's Vanessa Friedman: In July, the brand will finish renovations on its original atelier at 21 Place Vendôme in Paris, which will also house the label's offices, archives, and an apartment. In September, they'll announce a designer, and then next March, they'll stage their first runway presentation at Paris Fashion Week. But instead of joining the rat race of eight or however many shows a year like every other fashion label, they'll stick to only two. Meanwhile, the line will only be sold at Place Vendôme, and they won't do wholesale or advertising. Della Valle calls this business model "prêt-a-couture" — meaning that the products fall somewhere between really expensive and astronomically unaffordable.
Catering to really rich people and only really reach people should work out just fine, says Della Valle. "[Just because it] is not commercial, does not mean it won't be profitable," he tells Friedman. "There are a lot of rich people in the world who want something very special." 
But onto the more interesting question, and one that's ripe for the rumor mill: Who will be tapped to helm the house's revival? Will it be Galliano, as some have speculated? W editor Stefeno Tonchi gave a cautious endorsement at last night's Met Gala, although it sounds like he already knows who the designer will be. "There are a lot of designers that I think would do a great job," he said diplomatically. "Very soon they will make the announcement, so I already know a little bit too much. But I thought that it could be fun to have John back doing it — as in, Galliano." (Ah, "thought." Past tense.) He continued, "But you know, that's too much of a risky proposition probably. At least for America. But I think he's really talented."