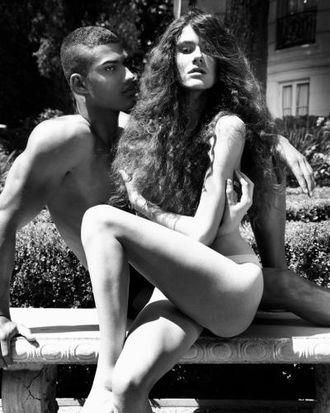 Evans posing with one of the forthcoming cycle's hopefuls.
Photo: Courtesy ANTM/CW Network
One of the many changes America's Next Top Model is undergoing as its nineteenth "college-themed" cycle films is the incorporation of real-time audience participation. Top Model followers get to grade — and offer their often pointed feedback to — the show's contestants via a special voting module on the CW Network's website, though the exact significance of their input remains vague, no doubt deliberately. So far, fans have already helped cast the thirteen finalists, choosing from a group of 30 hopefuls, and voted on the finalists' first two photo shoots.
Released last week, the first shoot saw the models made to look like hunting trophies — that is, they had to stick their heads through holes in the wall and pose like taxidermied deer. But the second shoot features new judge Rob Evans posing with the contestants, wearing nothing other than a revealing pair of black briefs. (The girls also appear only in their underwear but manage to preserve modesty with angled limbs, tresses of hair, and, in one instance, a well-placed topiary.) So click through to see Rob's admirable bod, but be warned, spoilers are at hand: Without naming names, one model has apparently quit the competition already, and this is reflected in the pictures online. It's quite possible the order of elimination will end up being spoiled in the same manner, with each week's booted model missing from the next lineup of photos up for public judging. (It's more likely, however, that even the ousted models will continue to have "decoy" photos presented for the public, which we'll confirm this Thursday when the third shoot is posted.)
In any case, this means a substantial portion of the cycle's story lines are getting revealed ahead of time, all for the sake of fan interaction. In particular, it's most of the fashion-related content-leaking pre-broadcast, suggesting that Top Model producers have decided the show's fans are less interested in the poses and the catwalks (unless the models fall over, of course) and more in the mindless drama and tearful confessionals. To that we say, well, duh.