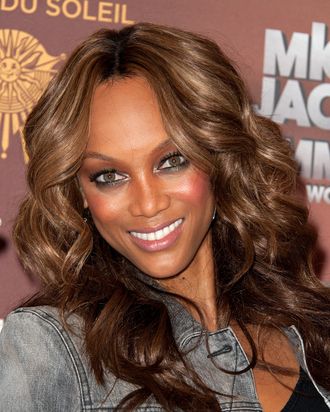 Tyra Banks.
Photo: D Dipasupil/FilmMagic
After firing Nigel Barker, Miss J, and Mr. Jay last month, Tyra's lined up some replacements for the show's nineteenth, college-themed cycle (there's your Harvard tie-in!). Model Rob Evans will join Kelly Cutrone at the judging table, and Katy Perry's stylist, Johnny Wujek, will serve as creative consultant. But that's not all — the next season includes audience participation. From the CW's blog:
For the first time in AMERICA'S NEXT TOP MODEL history, the public will be able to have a say in who stays and who goes in the competition. Beginning on May 24, fans will have two opportunities each week to vote online at www.cwtv.com and choose their favorite contestants based on photo shoots taken during production. These scores will be used by Tyra Banks and the judges to help determine who is eliminated each week.
Before you smize about how fulfilling it'll be to shatter someone else's dreams, here's the last bit of news: Top Model is taking over the Friday 8 to 9 p.m. time slot. Ouch.