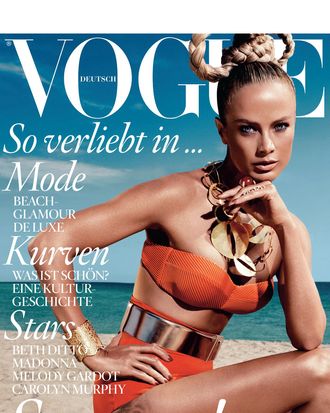 Carolyn Murphy for German Vogue.
• Giancarlo Giammetti threw Valentino a surprise 80th birthday party last Thursday night in Miami, with Nacho Figueras, Countess Georgina Brandolini d'Adda, and both Anne Hathaway and her mom in attendance. Then the fire alarm went off in the middle of it, but it was okay, because everyone was having such a great time! [NYP]
• Romeo Gigli is hoping to make yet another comeback, this time with women's and men's fall collections, personal appearances, and window installations, all for the retailer Joyce. [WWD]
• A braided and bikini'd Carolyn Murphy covers June's German Vogue, photographed by Alexi Lubomirski. [Design Scene].
• Opening Ceremony will launch a magazine in August titled OC Annual, with an inaugural, sports-themed issue pegged to the Olympics. The store will also release a book from Rizzoli in September tied to its tenth anniversary. [WWD]
• Bergdorf Goodman will celebrate its 111th birthday with a documentary film, a book, and an anniversary collection, to kick off on September 6 during Fashion's Night Month Out. [WWD]
• PPR, Parsons, and website the Fancy have teamed up to give Parsons students the opportunity to win an internship with one of PPR's sixteen brands. [WWD]
• These Little Marc Jacobs T-shirts celebrate gay marriage, and all of the proceeds go to the Human Rights Campaign. [Refinery29]
• Taylor Tomasi Hill chronicled her Australian Fashion Week for Elle.com. [Elle]
• A Brazilian technology company made hangers that digitally display how many "likes" a piece of clothing has on Facebook. [Refinery29]
• Kate Phelan, creative director of Topshop and normal human being, on wearing heels: "Oh my God, I have to say I chicken out. I never stroll anywhere, I'm always racing so I wear flats and then have heels in my bag for when I need them. But more often than not they end up staying in the bag." [WWD]
• Doutzen Kroes on how to lose baby weight: "Breast feeding really worked for me. I also think working out will definitely help. Plus, it gives you a little time to yourself. My eating habits are pretty healthy, too." Well, then. [Refinery29]