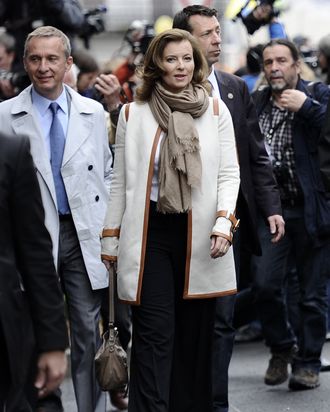 Valérie Trierweiler.
Photo: FRED DUFOUR/AFP/GettyImages
France's new "first lady," Valérie Trierweiler, sat down with The Times of London for an interview before her partner, soon-to-be president François Hollande, gets sworn in next Tuesday. They'll travel to the White House at the end of the month for the G8 Summit, where she'll presumably meet Michelle Obama (worlds collide!). Trierweiler, a longtime journalist with Paris Match and television station Direct 8 (she was forced to drop the latter in April), is used to the spotlight and has already been praised by the likes of Karl Lagerfeld and Christian Lacroix. But Trierweiler isn't stockpiling the boxy Chanel jackets just yet:
For the moment I dress in prêt-à-porter. Lately it has been Georges Rech and Apostrophe, which are quality prêt-à-porter brands that I have been wearing on television. I have never worn dresses by grands couturiers.
The Times writes that Trierweiler wants to be seen "both as a thinking person and ambassador for French style," and she looks to Danielle Mitterrand and Hillary Clinton (but, notably, not Carla Bruni) for inspiration. Trierweiler adds, "I want to … do the necessary smiling, be well dressed, but it shouldn't stop there." She'd like for Hollande to be well-dressed, too — which has apparently paid off, as WWD gave the man a B this week for his style, knocking him down a grade for his forehead, which is "bigger than Tyra Banks's … a shorter haircut would be more flattering," among other slight faux pas. From The Times:
It was Trierweiler who was responsible for Hollande's makeover in the run-up to the campaign, helping him to trim down substantially and putting him in sharper suits and glasses. A bon vivant, he has put some of the weight back on in recent months. Campaigning also took its toll on Trierweiler, who says it's not true that French women stay magically thin. "I have put on 5kg during the campaign," she shrugs.
Hold the phone … French women get fat? Okay, okay, we like her already.