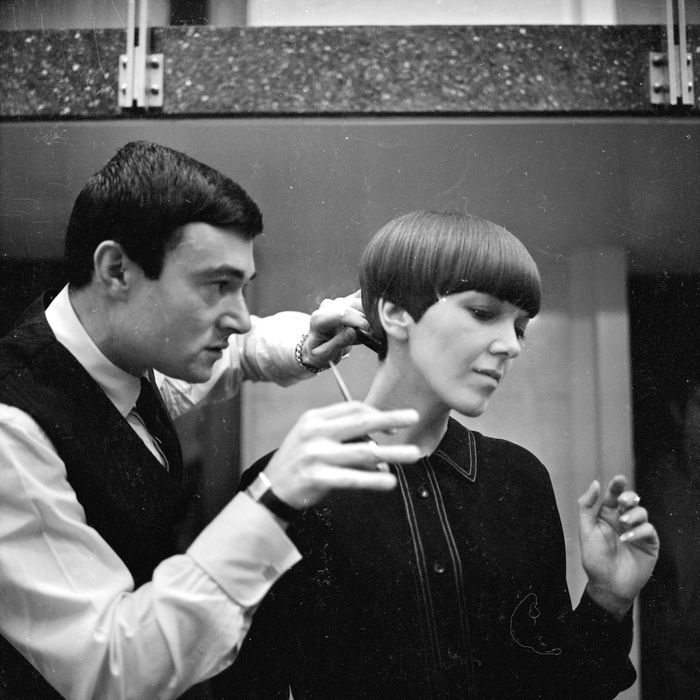 Sassoon giving Mary Quant his signature haircut in 1964.
Photo: Ronald Dumont/Getty Images
Celebrated hairstylist Vidal Sassoon has died at age 84 of an unspecified illness, according to the L.A. Times. His family members were by his side when he passed away at his home on Mulholland Drive in Los Angeles. Sassoon is arguably the most famous hairstylist in history, and he's credited with inventing a distinctive type of angular, low-maintenance cut that became his trademark in swinging London during the mid-sixties. He gave Mia Farrow her famous Rosemary's Baby crop in 1967, and popularized the asymmetrical bob. He is also known for encouraging women not to "set" their hair, as they did at the time, preferring to see hair shine, move, and look more natural. 
Born to a Jewish family in London in 1928, Sassoon was raised in poverty by a single mother and began his hairdressing career as a "shampoo boy" at age 14. He was later evacuated from London during World War II, only to face tough discrimination from Nazi sympathizers when he returned at age 17. He quickly joined up with the 43 Group, a militia of sorts that was founded by Jewish veterans after the war. He described his experience in 2010:
And as a 17-year-old recruit, I was proud to be involved. The men were mostly ex-servicemen, unsung heroes who had fought for five years and had come back to be abused by fascists as they walked down the street. They didn't want anything but peace, but it was disgusting that having just fought a war against Nazism, home-grown fascists were allowed to start reorganising. Something had to be done…

I do remember the night we were told to go up to Kilburn [in north-west London], to break up a fascist meeting. There was a real punch-up. We chased the blackshirts into a pub, but we were ourselves being chased by the police. They arrested us on the spot, threw us in the back of the van and started calling us filthy foreign Jew bastards. They beat the hell out of my old friend Big Mo Levy and threw us in a cell for the night.
Sassoon later fought in the Israeli War of Independence in 1948, but returned home to help support his mother. He opened his first salon in London at age 26 in 1954, and achieved international success in the sixties and seventies. In 1974, he co-wrote a book with his then-wife, Beverly Sassoon, called A Year of Beauty and Health.
After Sassoon moved to the United States in the eighties, he sold his name to Procter & Gamble so that they could use it to market hair-care products with the slogan "If you don't look good, we don't look good." In 2003, he sued Procter & Gamble for cheapening his products in favor of marketing their other hair-care brands, but the suit was settled before trial, and Sassoon later cut ties with his eponymous brand. He was the subject of a feature-length documentary about his career in 2010.
Sassoon was married four times and has four children with his second wife, actress Beverly Adams. He married his current wife, Rhonda Sassoon, in 1992.