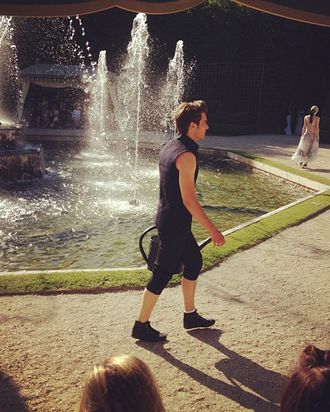 Male model with watering can bag.
Photo: Instagram/cpasariello via Grazia
We're still waiting for pictures to come in from Chanel's cruise show, which walked today in the gardens of Versailles. But judging by some Twitter snapshots, there were Easter-egg-colored wigs, Marie Antoinette–inspired dresses with ruffled miniskirts (think petticoats, lace-trimmed cuffs, and high-necked collars), and flatform lace-up shoes in a variety of pastel shades. Meanwhile, here's a photo of a male model wearing black pedal pushers and carrying a watering-can-shaped bag, courtesy of Grazia. So, basically, it looks like the White Rabbit from Alice in Wonderland had a baby with Louis XVI and dunked it in food coloring. More to come soon!