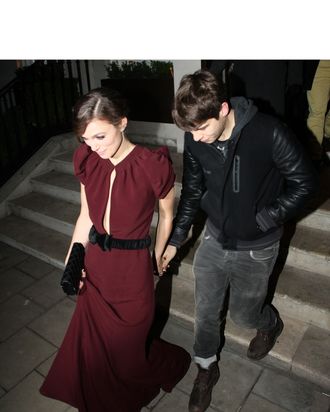 Keira Knightley and James Righton, trying not to be in this picture.
Photo: Mark Milan/FilmMagic
Keira Knightley's rep confirmed today that the actress is engaged to her boyfriend of fifteen months, James Righton, who's a keyboard player for British band the Klaxons. Apparently they were introduced by a mutual friend, some girl named Alexa Chung. How adorable — maybe she'll get to be a bridesmaid. Anyway, given Keira's Chanel contract, it makes sense that Karl Lagerfeld might pony up a nice dress for her. Her rep didn't give a wedding date or any further details.