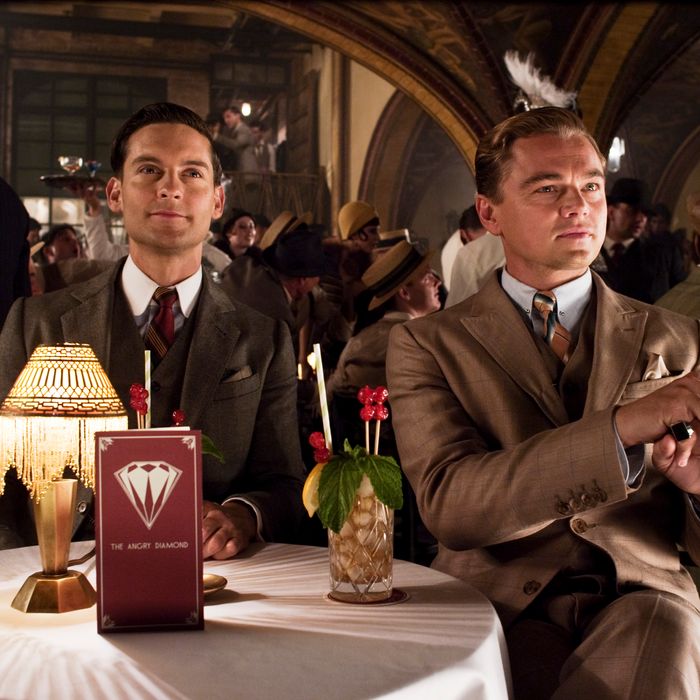 Tobey Maguire and Leonardo DiCaprio in their Brooks Brothers costumes.
Photo: Courtesy of Warner Bros. Picture/Bazmark Film III Pty Limited
Things we know about the costumes in Baz Luhrmann's forthcoming adaptation of The Great Gatsby: They're sparkly, feather-trimmed, and generally insane, thanks partly to Luhrmann's significant ties to the fashion industry, which have helped him land wardrobe partnerships with brands like Tiffany & Co., who supplied all the jewelry. We also know that the gentlemen in the film spend most of their time in three-piece suits, which look both dapper and uncomfortable for summer weather (hence the significant number of sweaty faces in the movie's debut trailer). Today, Brooks Brothers announced that they're responsible for the menswear in the movie.
According to their press release:
Brooks Brothers, America's oldest apparel retailer, has collaborated with two-time Academy Award–winning costume and production designer Catherine Martin to produce more than 500 evening and day ensembles as costumes for the male principal and background casts. 

"Fitzgerald was a Brooks Brothers customer. It is this most basic and fundamental connection that has made our collaboration so authentic. Brooks Brothers is mentioned numerous times in Fitzgerald's writings as a representation of the ultimate gentleman's purveyor of fine clothing to the American man of distinction," stated Catherine Martin. 
Does this mean that they're also supplying all those shirts that Leonardo joyfully hurls off the balcony of his two-floor closet in the trailer?