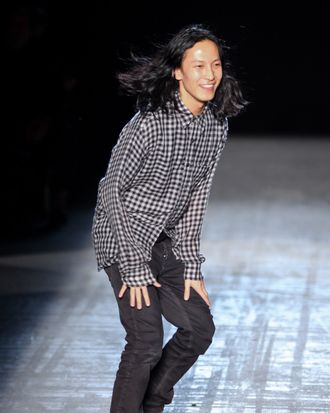 Alexander Wang.
Photo: Thomas Concordia/2011 Thomas Concordia
Even the juiciest of fashion-related lawsuits have a way of getting dragged out for so long that you wind up either forgetting or not caring about them anymore. Such will probably be the case with the class-action suit filed against Alexander Wang, Inc. in March by two former employees, both of whom claimed that Wang violated labor laws by failing to provide proper compensation, denying them bathroom breaks, and firing them when they complained about unfair treatment. After some initial lawyer-shuffling on the plaintiffs' part, the lawsuit is moving along now, and Wang's lawyers filed court papers on Monday denying the charges.
As you may recall, the lawsuit has two plaintiffs, Wenyu Lu and Flo Durante (although the spelling of the latter plaintiff's surname has been the subject of some dispute), both of whom formerly worked at Wang's factory at 386 Broadway in Chinatown. Lu alleges that he was forced to work fifteen-hour days without breaks, sustained work-related injuries that resulted in his hospitalization, and then was yelled at and fired when he requested better working conditions. (Back in March, a spokesperson for Wang told WWD that Lu had been fired for "serious harassment issues" — i.e., Lu had been the bully, not his supervisors.) It should come as no surprise that Wang officially denied the charges, and on Monday, his lawyers released court documents saying that all the accusations are bunk. Some excerpts, courtesy of WWD:
[The defendants at Alexander Wang Inc.] has complied with all applicable wage and hour and leave laws, and there is no basis whatsoever for plaintiffs' frivolous and entirely unsupportable accusations that defendants have harassed them or discriminated against them on the basis of their race, or on any other protected basis …

[The plaintiffs are] two disgruntled former employees with axes to grind … who have mischaracterized their former workplace as a hovel, while attempting to portray defendants as 'sweatshop owners.'

[Lu and Durante were] properly paid all wages owed … provided with regular and multiple breaks during their work time … [and] eligible for and provided with paid vacation, paid sick days, paid holidays, paid personal days, medical and dental insurance and other benefits.
Moreover, Wang is standing by earlier statements that the so-called "sweatshop" is actually a lofty space with lots of light and nice, high ceilings — you know, the kind of place where anybody would be overjoyed to stitch together fancy mesh shorts in between lengthy bathroom breaks, dentist appointments, and paid holidays. Heck, they probably get summer Fridays too. Anyway, this case will probably lag around for a while, since it sounds like Wang has no intention of settling.