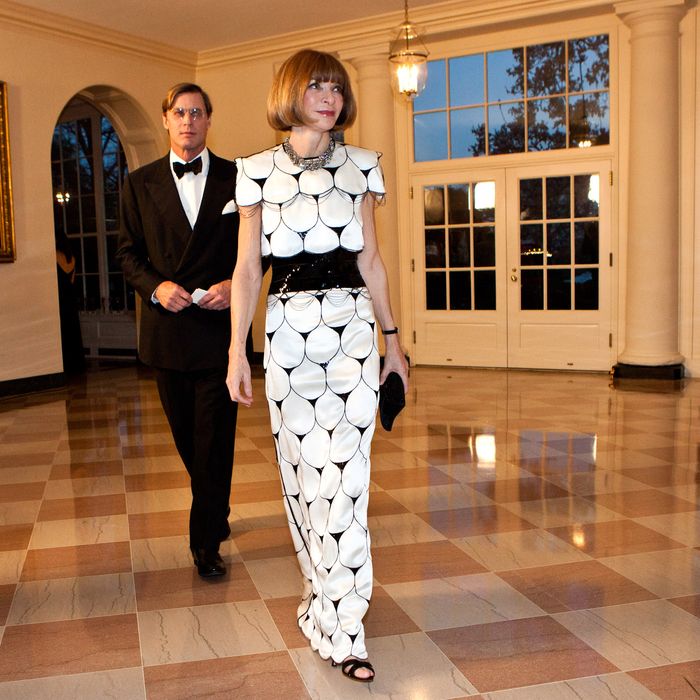 Anna Wintour with Shelby Bryan at a White House state dinner for David Cameron in March.
Photo: Brendan Hoffman/Getty Images
An article in Saturday's Guardian mused that Anna Wintour might be rewarded with a political appointment in return for all the money she's raising for Obama's reelection campaign. Namely, that she'd be named the U.S. ambassador in England, a post that's expected to open up later this year.
At first blush, the possibility of Wintour leaving Vogue for a jaunt back to her native London seems absurd, but the Guardian makes a good case for it. The post in question is traditionally reserved for deep-pocketed "friends" of the president, as it's a cushy job that doesn't require much heavy lifting when it comes to diplomacy. Recent history supports this: The position is currently occupied by 74-year-old Louis Susman, a retired vice-president of Citigroup, whose fund-raising abilities during Obama's 2008 campaign earned him the nickname "the vacuum cleaner." During the Bush administration, the spot was held by wealthy supporters William Farish and Robert Tuttle.
Wintour's appointment also seems more plausible when you consider that she was born and raised in London, where her father was the well-respected editor of the Evening Standard, and still has family there. (Interestingly, her younger brother Patrick is political editor at the Guardian, the paper that printed this story.) Moreover, should she be considering retirement (she's 62), this would be a dignified way to make her exit.
But the argument against the likelihood of Wintour angling for this job is far stronger. Although she's a hugely visible and outspoken Obama supporter, she's not alone in her money-bundling efforts: She's one of 117 people who, as of the end of January, had raised over $500,000 for his campaign, so there are plenty of other people in line to be "rewarded" for their generosity. And who's to say she'd even want the position? She's shown no signs of wanting to retire from Vogue, which (unlike many magazines) is doing better than ever. She has lived in New York for almost forty years now, save a two-year stint at British Vogue, and has a longtime partner and two adult children in the United States. In other words, packing up and heading to London for four years seems like an unlikely move for her.
If you'll allow us to be idealistic for a moment, is it really that hard to believe that Wintour is supporting Obama because he stands with causes she cares about, like gay rights? Her longtime partner, Shelby Bryan, was one of Bill Clinton's top fundraisers, and two of her siblings work for charitable organizations back in England, so political activism is hardly foreign to her. In an interview last August, Wintour told Forbes:
I don't think of myself as a powerful person. You know, what does it mean? It means you get a better seat in a restaurant or tickets to a screening or whatever it may be. But it is a wonderful opportunity to be able to help others, and for that I'm extremely grateful.
And even if Wintour isn't just doing this out of the goodness of her heart, and is indeed expecting something in return for all her efforts — you know, besides the respect, influence, and social standing — there are plenty of other (and arguably much better) ways the Obamas can thank her besides shipping her off to England. For example, Vogue might get another Michelle Obama cover feature with unprecedented access to the White House, and of course Wintour will be invited to as many fancy political dinners as she can stand to attend.
Finally, just imagine the backlash that Obama would get for giving Wintour a political position. His campaign is already getting enough heat for being in bed with the "elitist" fashion industry that taking a step further seems unwise. Plus, Wintour is such a visible public figure that her involvement in such blatant favor-trading would cause much more of an uproar than, say, some CEO whose lack of international policy experience would appear less obvious.
So, rest easy! We'll probably get to keep Anna around for a few years yet.