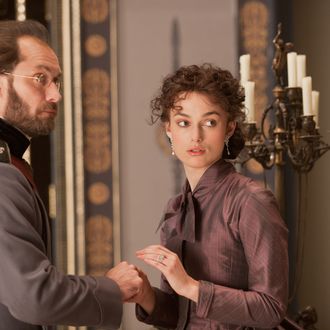 Jude Law (L) stars as Alexei Karenin and Keira Knightley (R) stars as Anna in Joe Wright's ANNA KARENINA, a Focus Features release.
Photo: Laurie Sparham/Focus Features
According to WWD, the collection will include "faux fur on collars, hats and coats," and "richly-textured fabrics in black and dove gray" that "betray the Dior influence," and be priced from $29.50 for jewelry up to $325 for a jacket. It's all pegged to the November premiere of the movie of the same name starring Keira Knightley and Jude Law. Sigh … Jude Law … oh, hey, guys.