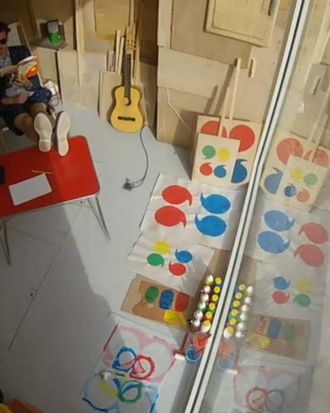 As promised, for the label's first Paris Men's Fashion Week show, a model is living in a compartment made from cardboard boxes and wood planks situated in a gallery window for 60 hours. WWD's initial reporting of the rules made the scenario sound grim:
He will [be] allowed to leave the box every two hours during waking hours to be photographed, change into a new look from the collection "and presumably to relieve himself every so often." [He] will sleep in the compartment.
But the box is more spacious than most Manhattan apartments, and it even came furnished! (We know this because, of course, the stunt is being live-streamed.) So far, we've watched the shorts-suit-clad model read a book. It's probably Fifty Shades of Grey.