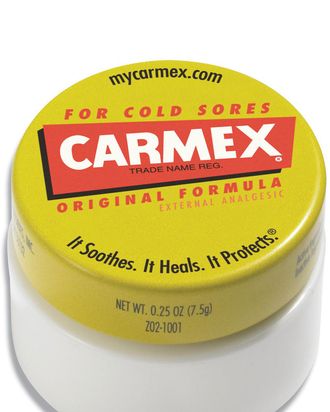 I have a serious aversion to sticky lip gloss, and The Cut's Ally Betker feels me. But unlike me, she also dislikes lipstick because she's addicted to the tingly sensation that her go-to pot of camphor- and menthol-packed Carmex provides — you know, that feeling that makes you think it's "working." However, there are days when she wants a hint of color and a little bit o' tingle, so herewith: the top lip-tinting formulas that still provide a  cooling effect.

Burt's Bees Lip Shimmers: These new balms contain the same peppermint oil formula that differentiates them from others in the Burt's Bees family. They're available in twelve shades, and the shimmer factor is rather subtle, in case you're sparkle-adverse. It gives lips just a bit of healthy, hydrated shine.
C.O. Bigelow's Mentha Lip Tint line: These have a major cooling factor (actually, they made my lips feel like they were in another climate), with the added bonus of supposedly making your breath smell fresher. When I tested them, I had just finished my morning coffee … and I'm pretty sure my breath still smelled like my iced coffee.
Tarte's Natural Lip Stain Pencil with LipSurgence: These pencils glide onto lips and immediately moisturize with jojoba seed oil, and the peppermint provides a tiny bit of tingle. They're darker than most of the other options, which means, unlike with Carmex, you're going to need a mirror to apply.
Carmex Moisture Plus Ultra Hydrating Lip Balm With Sheer Tints: I couldn't not mention these new balms by good ol' Carmex. They deliver their signature tingle, but the color payoff is kind of nonexistent. No mirror necessary.
Don't forget to leave your own questions in the comments section.
Burt's Bees Lip Shimmers, $5, Burt's Bees
C.O. Bigelow Mentha Lip Tint, $7.50, C.O. Bigelow
Tarte's Natural Lip Stain Pencil with LipSurgence, $24, Tarte Cosmetics
Carmex Moisture Plus Ultra Hydrating Lip Balm With Sheer Tints, $2.99, Walgreens stores