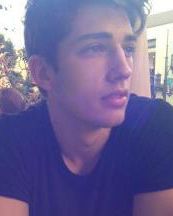 Benjamine Bowers.
Photo: Benjamine Bowers/Facebook
Family retailer Abercrombie & Fitch and modeling agent Brian Hilburn are being sued for $1 million by model Benjamine Bowers. Bowers, who started off as another employee at one of the chain's stores, was recruited by the company's casting director last year, and he and Hilburn traveled to Mississippi for a photo shoot. We'll defer to TMZ for the rest of the details.
The suit claims during the June 17, 2011 shoot, Hilburn convinced Benjamine that he needed to display a relaxed look for his modeling portfolio, and the best way of achieving that look was to masturbate in front of the camera, so the photog could capture his expression immediately after orgasm. And for good measure, Hilburn allegedly told him the drill was to do the whole thing in the buff.

Benjamine says he was a trooper and took matters into his own hands during the shoot. But Ben says after he masturbated, Hilburn exposed himself and commented on the relative size of their penises.
Sounds like … exactly what we expected. Poor Bowers: Scarred for life, and he'll be doing push-ups as punishment for the foreseeable future.