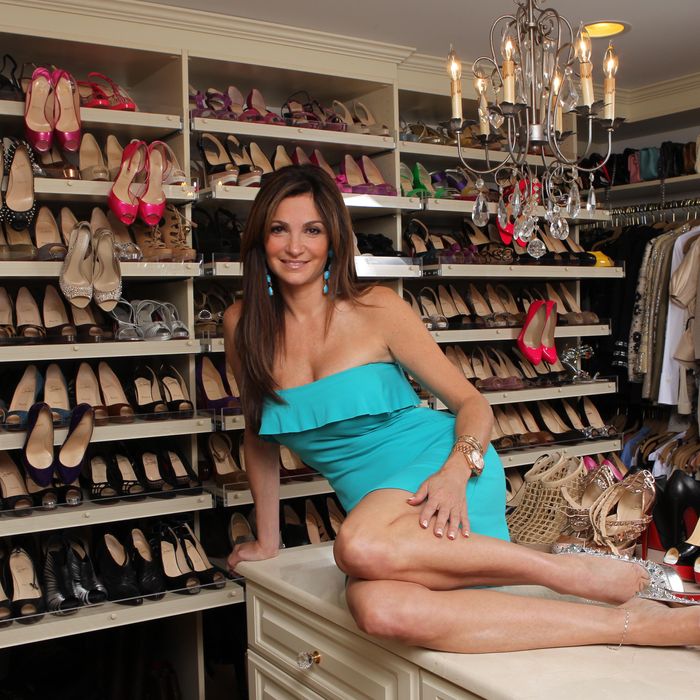 Beth Shak's so-called 'secret room.'
Photo: NY Post / Splash News/? www.splashnews.com
Beth Shak is a world-famous poker champion, but she's probably best known for owning more than 1,200 pairs of designer shoes, including at least 700 pairs of Louboutins. She runs a blog about her footwear collection, which has also been featured on MTV Cribs and Millionaire Matchmaker, and she even got a tattoo of a stiletto on her "groin area" for the reality show NY Ink. But somehow her well-clad feet escaped the attention of her former husband, Daniel Shak, who says Beth hid her prodigious shoe closet from him during their marriage and failed to disclose its worth during their divorce settlement three years ago, reports the Post. According to Daniel's suit:
In the summer of 2011, Daniel became aware that Beth owned and failed to disclose an extensive … collection of Christian Louboutin shoes … and other high-end designer shoes and bags … Dan trusted his wife and was not inspecting his home to try to find inventory or 'secret rooms.' 
For her own part, Beth told the Post, "He is saying he didn't know the closet in our master bedroom existed." Which is ridiculous but still doesn't prove that she factored her shoes into the divorce proceedings, in which case she could owe him at least 35 percent of whatever they're worth. Lesson learned: Pay close attention to shoes, always.