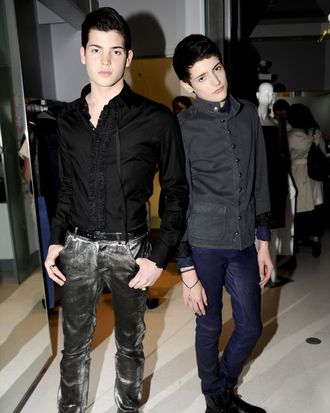 Peter and Harry.
Photo: PatrickMcMullan.com
The Times's Thursday "Styles" section profiles "The New Princes of the City," 18-year-old Peter Brant II and his 15-year-old brother Harry, the offspring of industrialist and art collector Peter Brant and model Stephanie Seymour. Writer William Van Meter caught up with the teenage boys at an Interview magazine party for clothing label Jitrois*; he also describes them as "omnipresent on the social scene and staples of Patrick McMullan party photographs." (Some of said McMullan photos that ran with the article include Peter with Tinsley Mortimer at a benefit, Harry with Michelle Harper at a different benefit, and Peter and Harry hobnobbing with Terry Richardson and Linda Evangelista at a fashion show.) Just typing this paragraph has sent us straight into Paxil territory, but Derek Blasberg says the New Princes only engage in PG-13 fun.
"For all their evening proclivities, they go home at a reasonable hour," Mr. Blasberg said. "I've never seen them — How shall I put this? — drunk and disorderly. I've been out when Stephanie has dropped them off and Petey's father has picked them up."
How wholesome! In fact, Peter and Harry were guests at Derek's birthday hoedown in St. Louis two months ago.
"Those boys were the first ones on the dance floor in their chaps and cowboy hats," he said. "They're not snobby. They can have fun anywhere from the Venice Biennial to a hayride."
A dance floor? In chaps and cowboy hats? Without being drunk and disorderly? Teach us your ways, Brant brothers, teach us.
* This article has been updated from its original version.