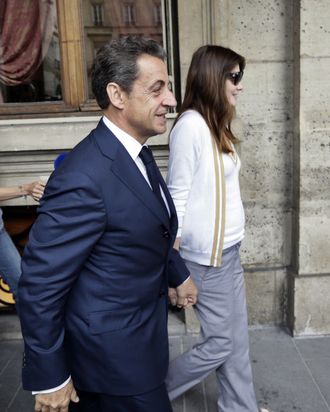 Sarko and Carla yesterday.
Photo: KENZO TRIBOUILLARD/AFP/GettyImages
French tabloid Closer went to press with the rumors that Bruni is pregnant again, just eight months after giving birth to Giulia, and the Daily Mail, of course, was all over it. Here's their translation of the report:
For several weeks people have been asking why she had not been able to shift the extra weight for her last baby. But we can now reveal Carla Bruni-Sarkozy is pregnant again. And with her stomach looking ever more round, she can no longer hide it. She clearly wants to nurture this pregnancy with the utmost care, because, like the last one, it is later in life so all the riskier, and she has therefore been advised to take as much rest as possible. We wondered what the Sarkozy couple would do with themselves after leaving office, and now we know — play happy families!
Play happy families? Sounds like a blast! But Bruni's "entourage" denied the speculation to Gala.fr, which we've translated here:
According to our sources, not only is the former "First Lady" not expecting her third child, but she would be furious and humiliated that people are talking about a hypothetical pregnancy, simply because of her difficulty returning to her pre-pregnancy silhouette. Unlike Victoria Beckham, Mariah Carey, Miranda Kerr, and Beyoncé, who lost their extra pounds a few weeks after giving birth, Carla Bruni-Sarkozy, like many women, is taking (slightly) more time. But no, she isn't pregnant.
And her "entourage" told Voici.fr:
Carla Bruni will not officially deny it, but I can tell you she is not pregnant. But she breastfed her daughter and is starting to lose weight. To write that she's pregnant? No.
Neither Nicolas Sarkozy's nor Giulia's "entourages" have commented.