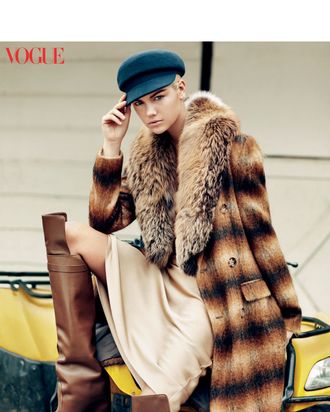 Kate Upton: the Vogue version.
Photo: VOGUE/Sebastian Kim
Just days after Kate Upton's GQ cover made its momentous debut, Vogue released a lengthy profile of her in their July issue (on newsstands now, although the Upton profile is not yet online). Remarkably, the corresponding photographs show her covered in … clothes! She's barely recognizable with her boobs all covered up in fur and wool, but she looks pretty. Vogue knows that they can't just ignore her history of undress, so they find a way to waltz delicately through the bikini subject:
It is in fact those two deeply abbreviated swaths of fabric on which Upton's not inconsiderable fame rests, which might make you think that this Sports Illustrated cover girl, almost always photographed nearly naked, is not exactly the ideal customer for Altuzarra's cuddly coat.
She wears the aforementioned coat in the editorial, which barely goes so far as to offer a glimpse of her kneecaps between her Givenchy boots and prim, knee-length hemlines. As for her YouTube fame, the story manages to skate around Terry Richardson's creepiness entirely:
[S]he has more than 350,00 Twitter followers and two notorious YouTube videos. Her breakthrough mini-film, Dougie, a cinema-verité classic gone viral, has garnered more than six million hits; her "Cat Daddy" dance was briefly pulled down by the site, although in reality it is no more shocking than any pulchritudinous teenager frolicking at the beach.
But the most interesting part of the profile is the question of whether the "voluptuous" Upton will ever book a high-fashion runway show. A few months ago, when she appeared on the cover of Sports Illustrated, even a casting agent for Victoria's Secret scoffed — quite rudely — at the idea of putting her on a catwalk. Vogue's piece introduces the possibility not just once, but a number of times:
The embracing of a voluptuous woman on a catwalk is not without precedent — curvaceous luminaries such as Miranda Kerr and Doutzen Kroes have managed to traverse the territory between Victoria's Secret Angels and devilishly high-flying runways (Prada, Louis Vuitton) with ease. Now it could well be Upton's turn.
When the profile follows Upton to Altuzarra's showroom, the topic is brought up once again:
Upton asks, "When you do your shows, do you always put the best outfits on the best models?" and Altuzarra answers thoughtfully that he might go against type and have Upton ramp up a woolly jacket, rather than pour her into a low-cut, tightly tailored number.
He "might"! Hypothetically. The piece ends on a hopeful but hardly definite note at Michael Kors's studio:
Upton admits that she really wants to do a big, glamorous ad campaign, maybe even more than she fantasizes about the catwalk, and Kors says gently, "The runway is ultimate casting for designers and editors." She hangs on his every remark as if committing each word to memory. "I think we have a new generation of designers who don't understand why a Sports Illustrated model can't be in the mix. I do think the old rules are tumbling," he tells her. Then he looks into her eager face and muses that once in a while a really special girl —  maybe just like her! — comes along.
So, do Kors or Altuzarra fall into this "new generation" of open-minded designers? Who knows. But where Vogue goes, brands follow.