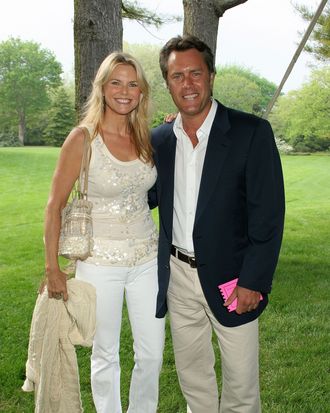 Brinkley and Cook, in happier times.
Photo: Rob Rich/Getty Images
Christie Brinkley and her ex-husband of six years, Hamptons architect Peter Cook, finally made a deal over the weekend, ending their lengthy custody battle. From a statement by Cook's lawyer Jim Winkley, obtained by the Post:
In addition to receiving financial compensation for having to address Ms. Brinkley's frivolous lawsuit against him, Mr. Cook has also secured a parenting coordinator, something he has sought, and Ms. Brinkley has refused, for 4 years. Ms. Brinkley is now mandated to co-parent directly with Mr. Cook and she will be monitored.
Brinkley, meanwhile, took to Facebook, writing:
I finally won the right to establish boundaries with provisions such as an intermediary to deal with email bullying, verbal and emotional abuse. I am hopeful the steps taken will now protect my Constitutional right to quiet enjoyment and peace and serve as a template for the courts to help others avoid the lengthy trials and tribulations that cost taxpayers money, and at a cost to families that CAN be calculated in dollars. But its the emotional toll which can only be measured in tears that must be considered by the courts and media alike.
The two sides visited a Long Island courtroom last Friday, and also present was Cook's new wife — he tied the knot last Valentine's Day without telling Brinkley because she "would drag it into her black hole of revenge and hate like she does everything else good in my life." We don't know what he's talking about — the model had nothing but very kind words for Mrs. Cook. From the Post:
"When you find out he's been cheating on you, I'll be here for you," Brinkley seethed at Cook's new wife, Suzanne Shaw. The supermodel bent down and touched the brunette stunner's hand with mock tenderness as she delivered the withering slam.

"Come up with a new line," Shaw retorted as a self-satisfied Brinkley sashayed away with her heels clicking down the courtroom hallway.
Oh.
Brinkley and Cook were scheduled to be back in court for another trial tomorrow, but they avoided it thanks to their settlement. They also likely avoided another round of Brinkley crying on the Today show and another nasty rebuttal by Cook on "Page Six." All in due time.