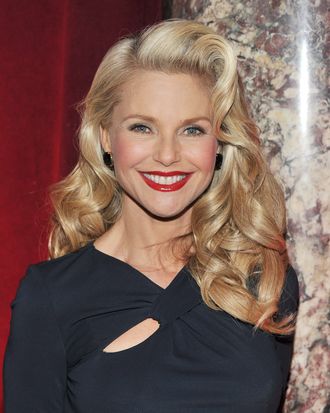 Christie Brinkley.
Photo: Stephen Lovekin/Getty
In case you missed it: Model Christie Brinkley and her ex-husband, Hamptons architect Peter Cook, reached a deal this weekend, ending their long custody battle over their two children, Sailor and Jack. According to Cook's lawyer Jim Winkley, his client has received "financial compensation for having to address Ms. Brinkley's frivolous lawsuit against him" and "secured a parenting coordinator." Not so, says Brinkley's lawyer Thomas Campagna. In fact, Campagna claims that Brinkley has "won the right to enforce a 'NO CONTACT RULE.'"
His full message, as posted on Brinkley's Facebook account last night:
Despite the fact that this matter has been settled, Mr. Cook and his attorney continue to garner media attention with outrageous lies and misstatements that have absolutely no reflection upon the parties' settlement. The statements made by Mr. Cook and his attorney regarding the terms of settlement are simply and completely untrue.

Any statements released by Peter Cook should be viewed in the context of his personal history of severe, and well documented, ethical and moral shortcomings, all of which are indicative of his lack of credibility.

There was never an appointment of a "parent coordinator" as Mr. Cook claims and there was absolutely no compensation paid to Mr. Cook. In addition, Mr. Cook was forced to pay his child support arrears rather than face the consequences of the Court. The settlement also provides for an "intermediary" to monitor Peter Cook's abusive communications and levy a fine for any future violations.

Ms. Brinkley has won the right to enforce a "NO CONTACT RULE" which is imperative when dealing with a spouse with a Narcissistic Personality Disorder ("NPD"). This includes boundaries and provisions such as an intermediary to protect NPD victims from email bullying, verbal abuse, and emotional abuse.

The legal matter is now fully resolved. As to Peter Cook's ongoing character assassination, we will no long dignify his behavior with a response.
Not one to be left out of the action, Cook's new wife, Suzanne Shaw, released a statement of her own, outlining ten "lies" that Brinkley supposedly told about Cook and their legal battle. Apparently, "lie" number one is that Brinkley has moved on from her marriage to Cook. More from ABC News:
In "Lie#5" Shaw writes: "Your one goal has not been to find peace. 4 years ago you fought to keep the courtroom open and have done everything since to engage in warfare and remain in the spotlight for same."

And in "Lie #10" she writes: "The only steps that were needed to protect your 'constitutional right to quiet enjoyment and peace and help avoid lengthy trials and tribulations that cost taxpayers money' were steps you yourself could have taken by not being so litigious and filing frivolous lawsuits and being so publicly vicious towards the loving father of your children. Peter has been your target (and me), but the sad reality is, it is Jack, Sailor and many other innocents … Your spiteful vengeance and continued punishment of Peter no longer fits the crime of his parenthetical infidelity against you 6 years ago. In fact, it never did. You are one of many women who have been cheated on, but one of few who have chosen to disgrace her entire family because of it. "
We wonder what the other seven "lies" were! Wait, no we don't. We're all set.