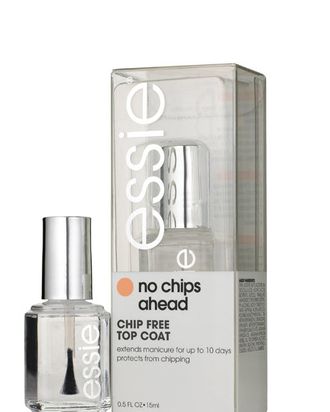 Essie No Chips Ahead Chip Free Top Coat
Photo: Courtesy of Essie
Unless you get gel manicures or nail wraps, your nails are going to chip. (It's true.) And especially if you aren't careful, they'll chip before you even walk out of the salon (if this happens, go back inside and get it fixed; most salons do this without any extra charge). Your nails are out in the wild, well, handling things. I like to keep my nails short, just below the finger tips, to protect them from coming in constant contact with my computer keyboard, but I'm also a horrible cuticle picker (I'll address that in a different post), which usually gives my manicure even less staying power. Here's what you can do to give your nails an extra day, or several.
• Make sure your nails aren't covered in any oils (hand/cuticle creams) pre-manicure. The polish will adhere better to the nail if there isn't any preexisting residue.
• When you get your nails painted, ask if your manicurist can add a quick layer to just the tips of the nails first (almost like a French manicure tip), then paint the whole nail like normal. Adding an extra layer of polish there means that, ultimately, the tips will actually have three coats and all the more protection.  
• If the mood is right, go glitter. These polishes are usually pretty difficult to remove (and the reason why I hardly ever go with this option), let alone chip. Those sparkly suckers aren't going anywhere because of just how well they bond to the nail.
• Use separate top and base coats, never a two-in-one. Do two-in-one products anywhere really work? The only successful combo ever, in my book, is the spork. 
• My tried-and-true top coat is Essie's No Chips Ahead Chip Free Top Coat, which promises ten days of chip-free-ness. Without this, my manicure will last about two and a half days, but with the top coat, I can usually eek out another four solid days, and that's as good as it gets for me. I'm constantly opening product packages, which are public enemy number one to polished nails.
• If you're at a nail salon because you're incapable of painting your own nails like I am, I usually really milk my time under those dryer fans. I'm there for at least 25 minutes, which gives me plenty of time to finish all the watermelon-flavored Jolly Ranchers in my salon's candy bowl.
• And if you're really committed to the cause, pull a Diane Keaton and wear gloves all the time. 
Essie's No Chips Ahead Chip Free Top Coat, $8, Macy's.