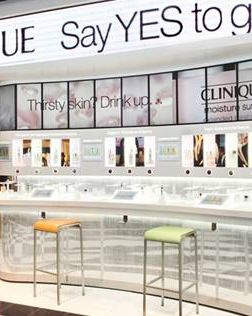 Photo: Courtesy of Clinique
Walking onto the beauty floor in a department store can be a daunting experience, especially if you already know exactly what you want. What you don't want is to stand there (or get backed into a chair) and get tutored on how exactly you should be using that specific product, or what other products will enhance the effectiveness of that product, and get asked if perhaps you'd like to test out the latest zit cream while you're there. Clinique, the company responsible for introducing most teens to their first high-end makeup product, has heard your cries and unveiled its first salesperson-free shopping experience in Manhattan's Bloomingdale's flagship store.
"Carry a Clinique browsing basket and we'll leave you alone. Promise," reads a sign above the stack of shopping baskets. Clinique's trained salespeople wearing the familiar white lab coats are still on hand to answer questions or demonstrate in a full consultation, but the only time shoppers must interact with them is when they pay.
The model for this concept is based off the all-familiar hands-on, play-and-shop displays at Sephora stores.
In Clinique's new approach, called "Service As You Like It," consumers can open wide drawers and help themselves to product without asking permission. "Know what you need? Just grab and go," labels say.
Now picking up a yet another tube of Black Honey lipstick doesn't have to be an anxiety-soaked expedition.