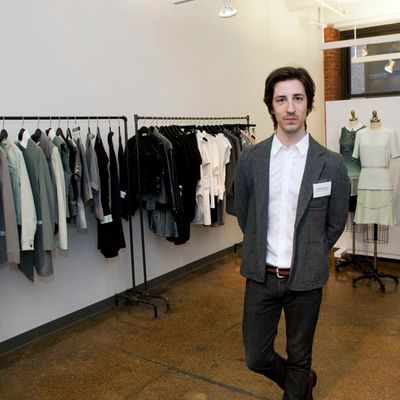 Daniel Vosovic at his CFDA Incubator Space
Photo: Courtesy of CFDA
Exactly four days after Daniel Vosovic graduated from FIT, he started filming season two of Project Runway, where he became a finalist and a fan favorite. Following his television stint, he intentionally took a step back, holding various head designer and assistant positions for four and a half years, before launching his own line in 2010. More recently, he was accepted to the CFDA Incubator program's second class. Call it luck: Vosovic actually wasn't qualified to apply when the deadline rolled around (because labels must be in business for at least two years); however, when one of the original ten Incubatees dropped out last spring, his company had just reached that age, so he nabbed the open spot. There's no doubt that he's successfully navigated tricky waters from Project Runway to the CFDA — simply staying financially solvent is a feat for any young designer, especially when you take into account that he's managing both the creative and business sides of his company ("until I find my Robert Duffy," he says). See what Vosovic had to say about his post–Project Runway fame, being ripped apart by his CFDA mentors, and showing at Fashion Week.
Can you walk us through what happened between Project Runway and now?
I was on the show four days after college, so it was my first real job … When it came time that the show was done, that the dust had settled, I knew that I had to make a decision and try to use the exposure to jump into something — even though I knew I wasn't ready — and maybe just try and spin it into something positive. But I felt like that had a very short shelf life, so I made a very conscious decision to take a step back and say, You still have to learn about this, you still have to really develop this part of design and part of your business. So that's what I started to do. I went back into the grind, which was very weird to go into interviews when people had seen me on the TV show, but I jumped from big companies to small companies, some creative director positions, some very lowly assistant positions, and I did that for four and a half years. And all behind the scenes, I started to build up my infrastructure. So before I even had my company, before it officially launched, I had my legal team and a financial team and a proper business plan.

Would you do Project Runway again?
Well, the thing is, I was on the show when it was still a dog and pony show. … Being the second season, no one really knew the formula yet, no one really knew how it worked. That type of reality show was still new back then. I think that I would not do the show now, but I'm very grateful that I was in the second season … people were still excited about what it was becoming. So I felt like it was really good timing for me.
Are you tired of having the Project Runway name attached to you?
To be honest, a lot of people don't attach it. There are people who knew me from back then, but the fashion industry moves so fast, and there's always someone new coming up, that over the years it's sort of been pushed back in my intro … It's like saying any big highlight — like if I dressed Lady Gaga for a world tour, something big and very popular and a lot of people watched it — there's a timeline for how long you can use that as your big "in," you know? And so, for me, that was six and a half years ago, and I feel like if I was still using that as my big in, it would feel very tired.

The CFDA Incubator and Project Runway kind of beg to be compared, don't they? 
Well, [the Incubator] has air-conditioning, which is always plus! [But] I think for me the biggest point is that [the Incubator] is a business development program. You have people who talk about design and fabrics and stuff like that, but the reality is they're analyzing your business. They're analyzing your numbers and my costing and my production … It's not, We don't like that collar, or We don't like that color — those are still my choices. And that's what I feel is so different going into this — no one's analyzing my designs the way Runway did, they're analyzing my business. So there's still a dialogue that's happening, but it's completely different topics. Which still makes you feel vulnerable and makes you feel at times inadequate. But that's what makes this program so different, [whereas on Runway], you didn't even touch on business.

But behind the scenes of Runway, I'm sure all the designers were under a lot of financial strain.
Karen Elson had a great quote — and I remember putting this on my inspiration board back when I was in college. I think someone was interviewing her, and they were talking about luxury and all those pop words, and she's like, "The reality is, in fashion everyone's going home to a fourth-floor walk-up in Brooklyn …This [fashion] show literally cost $2 million, but everyone's going home and everyone is working here for free." But I didn't get into this to just be a dressmaker, to just make product. I want to create a world, and I want to create a vision, and if it takes sponsorships, if it takes finagling to do that and make money, then that's the hoops that I have to jump through right now. Until I'm Marc Jacobs and I can have a fucking train pulling into my runway!

Well this program should certainly help.
Exactly. All of a sudden I have "CFDA" on my forehead, and people automatically look at me differently. I can't tell you how many people came through that open house who had seen the collection before, who have seen me before, who know the routine — and who couldn't be more excited about SS13 … I think just being a part of the program has already elevated me more than the past five seasons.

Can you talk about the mentorship involved with the CFDA Incubator?
Oh my gosh, the first meeting? Ripped. Me. Apart. It was so horrible. It was so good, but [at the end of the meeting] I said, "You guys have completely ripped me apart. Just promise me at the end of this six month [term] that you'll help me put everything back together again."

Are you planning to ever show at Fashion Week again?
Absolutely, we haven't shown the past two seasons on recommendations from editors. … You know how much of a shit-show it is. Hundred of shows. I remember my last runway show, I think maybe it was more than $100,000 worth of cost — and for a young designer that's a lot of money! And five days after that show happened … I sat down with my friends and I said, "I don't feel satisfied." Like, I just paid six figures for a show — eight and a half minutes long — and I don't feel satisfied. Why is that? … I realized that I was making a bigger impact one-on-one than I was by turning the volume way up and doing a show. And the thing is there are restrictions I will have to work around. Until I can do a train, until I have $8 million, I'm still going to be competing against not just young designers, but I will always be competing against Marc [Jacobs] and Proenza [Schouler] and Oscar de la Renta — all the more established labels … [Building] relationships with editors … and with press on a more intimate level [has] actually been more successful. Because then people care about me and care about the brand, and it doesn't marginalize what I do and just make it [about] product. Because that's what I was feeling like, it was really feeling very cheap like I'm shoving stuff in your face. And until I have the opportunity to really, really create the world I want to create, then you know, this is how I'm going to do things … Does that sound really weird?

No, it sounds great! You've obviously thought a lot about this.
Watch us have a conversation a year from now and I'm bankrupt, you know? Who knows if it's going to work out, but this is the path that I've chosen to go down, and hopefully it works out for me.