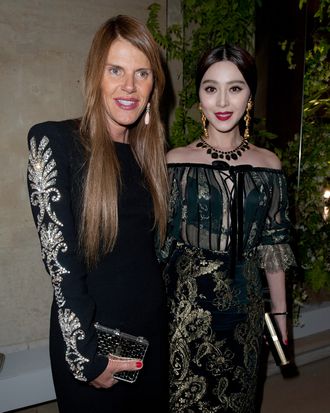 Anna Dello Russo and Fan Bing Bing attend the Salvatore Ferragamo Cruise Collection 2013 show presented at Galerie Denon at the Louvre Museum on June 12, 2012 in Paris, France.
Photo: Kristy Sparow/WireImage
At yesterday's Salvatore Ferragamo resort show in Paris, the fashion-director-at-large of Japanese Vogue "was almost fashion roadkill" after paparazzi "ran past [her] to snap photos of Chinese actress Fan Bingbing," the Post reports. Anna wasn't hurt, but one of her fruity headpieces could have doubled as a helmet. Safety first.