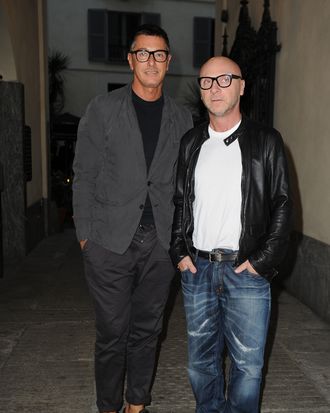 Domenico Dolce and Stefano Gabbana.
Photo: Jacopo Raule/Getty Images
Dolce & Gabbana will hold their first-ever couture show on July 9, but they're hosting it in Taormina, Sicily — far away from all the other couture collections in Paris (and close to their new coterie of models). According to the FT's Vanessa Friedman, the designers' decision to show in such a far-flung locale is part of their strategy to keep critics away — not that journalists were invited, anyway. Apparently only "select" (rich) clients and a total of three news outlets were asked to attend.
Dolce & Gabbana abolished their lower-priced line, D&G, just last year in order to put "more strength and energy" into their other collections. So, essentially, they're now refocusing their efforts on higher-end customers. Friedman reports:
A source at the brand simply says the designers have been interested in exploring this area for awhile — the old "artistic challenge" line. However to me, this suggests the brand buys into the current thinking that says high luxury is a safe haven in a recession-plagued world (there are always rich people who want really special products and will pay for them).
Anyway, thanks to all this secrecy, we probably won't see photos of this mythical couture collection for a while (if at all), nor hear much about it.