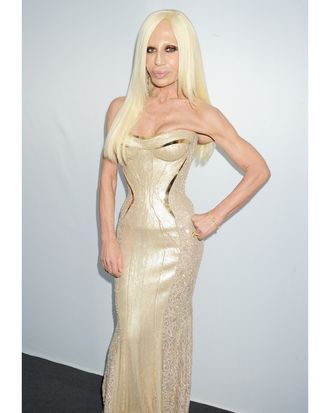 Donatella Versace.
Photo: Dave M. Benett/Getty Images
Ahead of her Atelier runway show this Sunday at Paris's Ritz Hotel (where she'll also debut a new jewelry collection), Donatella Versace sat down with both WWD and the Telegraph to talk about returning to her brother Gianni's preferred location for his couture presentations (the fashion house stopped using the space in January 2004). She tells WWD that she hesitated to return to the hotel because she "couldn't face the past with ease. I could not think of the last time I saw Gianni, in the lobby of the Ritz, two days before he died," adding, "I'm afraid, my nerves are shot, yet I'm excited, but I can do it for me and for Gianni. This is a collection I think he would really like — it's very rich." In the Telegraph, she says, "There was no 'safe' with Gianni. He wasn't a safe person. He kept telling me not to be afraid of anything."
The British newspaper goes beyond the remembrance of things past and asks Donatella about her present-day friendship with Miuccia Prada, which apparently surprises a lot of people, even Donatella herself:
They first met in Milan, "at some event, somewhere … I made a joke and she started to laugh and she said let's go and get some paninis because we're starving … and off we went. We just talk, talk, talk. She's so inspiring. We make fun of each other and teach each other. She says, 'I could never make sexy clothes, but I love them.' And I say, 'Well, I love what you do'."

Miuccia Prada recently told me, dejectedly, that feminism was dead in Italy. Does Donatella agree? "Feminism is dead in the world. It comes from another time. I'm a feminist. I want to fight, but I don't see many people with this desire to fight for something. Women don't help each other, especially in fashion. I know Miuccia … but that's it. Nobody else."
The rest of the interview is filled with Donatella quotables — when asked how she keeps young, Donatella responds, "Haven't you heard? I sleep every night in the deep freezer!" She also admits that she's had Botox, but "only on my face, not on my body, that's the result of hard work." And, if she hasn't won you over yet, tucked into one paragraph is a quick mention about her picking up a copy of Fifty Shades of Grey, but she couldn't get through it, finding the book so poorly written.