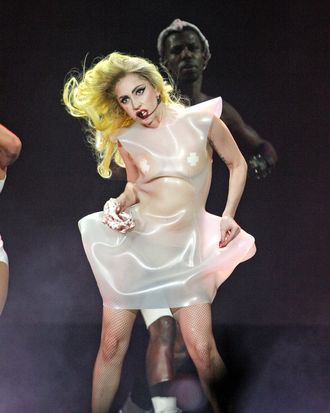 Gaga.
Photo: Bill McCay/WireImage
Today in semi-interesting Lady Gaga legal troubles: Back in 2004, when Stefani Germanotta was still in high school, Albany, New York–based cosmetics brand Gaga Pure Platinum obtained a trademark for their name. According to the blog Velvet Roper, their business fizzled out over the past decade, despite their signature infusion of a "mélange of GEMLUST™ Jewels" in all their products. Enter the next Gaga: On March 5 this year, Lady Gaga's company, Ate My Heart, Inc., petitioned for the cancellation of Pure Platinum's trademark registration, claiming that the mark was "no longer in use," no doubt clearing the way for the release of Gaga's soon-to-be-realized fragrance empire. Less than two weeks later, Pure Platinum reinvigorated their Facebook presence (their first-ever Facebook post is dated March 17) and joined Twitter (first tweet: March 21). Although it's unclear how long they've sold their products online — when we called to ask, the sales associate didn't know — Pure Platinum's website design was copyrighted in 2012, so it can't be that old. (Their domain name was registered in February 2011, but by whom is unclear.)
Then, in May, Gaga Pure Platinum filed a Notice of Opposition against Ate My Heart, Inc., stating that their Haus of Gaga trademark infringes upon Pure Platinum's brand recognition. In other words, Pure Platinum says that their business may be hurt by Ate My Heart, Inc., especially as Lady Gaga expands into cosmetics. It's hard to imagine that Gaga would let a little GEMLUST™ get in her way, so … Pure Platinum's staff bonuses ought to look nice this year.
* This post has been revised to show that Gaga Pure Platinum is indeed currently in business.