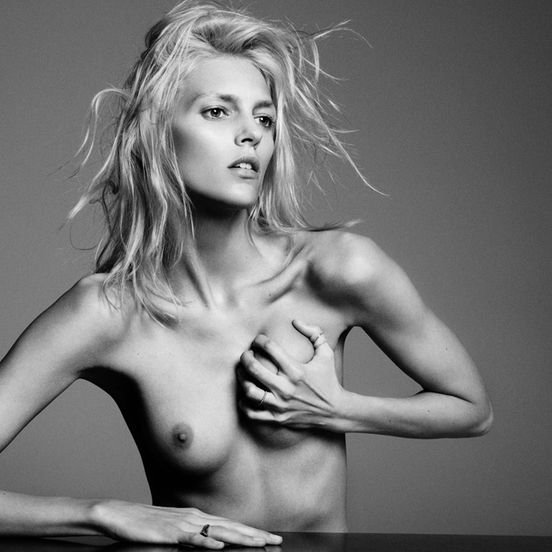 Anja Rubik.
Photo: Paola Kudacki
"Nowadays, sex and nudity is either so vulgar or so prude," says 29-year-old Anja Rubik, the veteran model turned founder and editor of 25 magazine, which debuts this month. The first issue, which focuses on erotica from a woman's point of view, was shot completely by female photographers, and includes work by luminaries like Emma Summerton, Annie Leibovitz, Paola Kudacki, Camilla Åkrans, Ellen Von Unwerth, and Corinne Day. It also features profiles of high-powered women in the fashion industry like Liya Kebede, Inez Van Lamsweerde, Elettra Wiedemann, and Roxanne Lowit. Most of the contributors and subjects are people Rubik has befriended during her long and successful modeling career, which began when she was attending a British high school in Paris. Over the past decade, she has racked up countless covers, ad campaigns, and catwalk exclusives; Models.com recently ranked her No. 18 in the top-earning high fashion models in the industry. Born in Poland and raised in Greece, Canada, and South Africa, she's fluent in several languages and exudes a calm, soulful worldliness, no doubt a result of years of solitary traveling. We spoke with her this week about 25's first issue, sexuality in modeling, and her future plans for the magazine.
How did you get started in editorial work?
About a year and a half ago, I started helping a friend that owned 25 magazine, which was then based in Austria. He asked me for help with some fashion projects, and I organized a few shoots and helped with some editorial work, and then I helped change the layout and choose writers and everything, and in a month it became a new magazine. I fell into it by accident, and I really enjoyed the whole process, and then we actually got a lot of awards for it. And then my friend said, 'Well I don't really want to have the magazine anymore, and if you want, you can take the name.'

So basically, you just made a whole new magazine with the same name as this old one.
Yes. I love the number 25. It's something you can really play with. And I love the idea of tweaking it into the new 69. I thought it would be really interesting to make a magazine – I'm inside the industry, and I have great connections. So I decided to move the magazine to New York and really work on it. I've been thinking about it for a year and a half, but we started working on this particular issue in January.

So how did you come up with the sex concept?
It was bothering me how the world is nowadays – how we approach nudity and sexuality and beauty. I thought it was really, really wrong, and I wanted to create something that goes back to the erotica of the seventies. I was searching for inspiration, and I looked at this magazine Viva, from the late sixties and early seventies, that inspired me. It was a Penthouse publication for women. I thought it was so beautiful and innocent, and very sensual and erotic, but all in very good taste. What happened to all of that? Nowadays, sex and nudity is either so vulgar or so prude. So I wanted to create something inspiring, and beautiful, and sensual, to get people to think in a different way.

How did you pick the group of people you worked with on this issue?
I made a list of people that I would like to work with, and then I thought, There's so few female photographers in the industry. Which is funny, because we're in an industry that's targeting women. So I decided to dedicate this first issue to women photographers, and I made a list of women photographers that I know, most of whom I've worked with.

How did you actually approach them?
I started to research different ideas for shoots and see which topic or inspiration would work best for which photographer. And then I approached the photographer, and stylists too, and send them inspirations, speak to them about it, see if they like the idea, and send them a little description of the magazine that I'm trying to do. I have to say that everyone I approached with the project was very, very supportive. Most of them are people I've known for over eight years, since I've been working with them as a model, so they know me personally. Like Inez and Vinoodh or Paola Kudacki, who are very good friends of mine. It was a leap of faith for everyone to work with me, because I had nothing to show them in terms of how the magazine was going to look. So it was nice that they believed in me.

You have a lot of illustrations in the magazine, too. How did you decide which artists to feature?
We wrote about one artist, Alejandra Mendoza, who I just found in Mexico. I saw a few of her pieces by pure accident in the back of a little souvenir store, and I asked about them, and the woman working in the store told me that her daughter painted them. So I started to research her, and I fell in love with her work and with her in general. So we put her in the magazine because I really believe in her art.

How about all the cartoons that you have in there?
The magazine approaches sex, but it's also about fashion. But I wanted fashion to not be taken too seriously. So I researched different comic artists, and I found a few names that I really liked and I approached them and told them I wanted something smart but something really funny connected to fashion. And this girl Joana Avillez, she came up with the idea of using a girl Nadine, who is based on Kiki de Montparnasse, you know, the singer who lived in Paris. And I actually read Kiki's biography, so I thought it would be a genius idea. I love the fact that Joana drew her in such a sinful way, but it's funny at the same time, and almost on the border of vulgar but not really.

How many people do you have working on your team?
The team that I'm working with is really tiny. It's really me, my managing editor [Sarah Chavez], and my art director Julien Gallico. I also have partners, [Gabriele Moratti, Daniele Sirtori, and Giuseppe Modesto] who are actually backing the project from Italy. But it's just the three of us — and my husband, [Sasha Knezevic] who helps here and there – who built the whole magazine and came up with the ideas.

A subject you explore a lot is the difference between porn and eroticism. Did you come to any conclusions about that?
I think it comes in waves, erotica. You know, back in the seventies, our approach to sex and everything was so much more beautiful and intentional. And then it changed throughout the eighties, and it became so harsh, and then the whole wave of AIDS brought so much fear, and in the nineties it became really, really rough. In general, I think erotica is a more sensual, more natural approach to nudity and sex. And I think porn has become really artificial, and sometimes it's very, very vulgar. You have all these plastic surgeries, implanted breasts, and implants in the bottom and implants in the mouth, so much that the mouth starts to look like the vagina. I think we're missing the innocence and beauty of sex, and at the end of the day, sex is something so, so natural.

How do you feel that your modeling career affected your approach to sexuality?
Modeling is an incredible job for a girl if she approaches it with her head on her shoulders. You travel, you speak to people, and it opens your mind to different things. And I think also through arts, you gain a different approach to sex and seeing different things. I think it's affected me in that I'm more tolerant to different things. Sex is such a personal thing. Everyone has different likes and dislikes.

Did you ever feel when you were modeling that you were pushed to be sexual in a vulgar way?
No, I haven't. If a model gets an offer for a job, and she researches the photographer and feels like, "This could be a little too much for me. I wouldn't feel comfortable in such a situation," then she shouldn't do the job. I always checked the job description, and the photographer, and made sure I had no doubts about the nudity or the sexual part of the shoot or the idea so that I'd feel comfortable with it. So I've never had a situation where I was pushed into anything where I was uncomfortable. For example when I did Pirelli with Karl Lagerfeld, I agreed to do it with him because I knew the images would be very beautiful.

I read that you didn't want to do Pirelli with Terry Richardson, though.
I've worked many times with Terry Richardson, and I like him a lot, and I've never had a situation with him where I felt uncomfortable. What photographers do is open the door and see how you react to different things. And if they see that the girl's uncomfortable, then they stop. I know there was the whole drama with Terry Richardson, and actually, I was asked to do the Pirelli calendar with him as well. But I know his pictures, and I knew that I might not feel comfortable in certain situations, which would be really difficult for me and for him, because he has a vision. So, I decided not to do it because I was not sure it would work for both of us. But every time I've worked with him, there was never a situation where I was pushed into something. Everyone has their own limits and everyone has their own boundaries, and you know, another girl can do way more and feel comfortable with it. 

Do you have any advice for young models, in terms of making sure that they don't get into situations where they might feel pushed to do something that that objectifies them or sexualizes them in a way that they might regret?
I started modeling quite young. I would really recommend to every girl not to start modeling until they turn 17, to be honest. Before that, I think you're not mature enough. You see girls that are modeling who are 14 or 15, and I think that's way, way too young. The best models in the industry are the ones who feel comfortable on the set. If she doesn't feel comfortable, the images won't be beautiful. There's this idea that you have to do something or your career won't go forward, but a girl should research the job beforehand and if she feels uncomfortable with it, she should just say no. If she feels uncomfortable, the photographer won't be happy with her, and the client won't be happy with her, and she will do more harm to her career than if she just said no to begin with.

Will the next issue of the magazine have a similar theme of erotica, or are you going to take on a whole new topic?
That's a theme I want to continue in all the issues. I think it's very interesting that we don't have many magazines that are erotic. You do have things like Purple, but that's more from a man's point of view rather than from a woman's point of view. 

What's the timeline with the next issue?
I'm already working on the second issue, just with ideas and putting shoots together. I would love to launch it in the middle of November. It's a fashion magazine, but it's not really based on collections, so I don't want to do it in a way where it's connected directly to the shows. In the meantime, we're doing a launch at Colette in Paris on July 3, during the couture shows, which will be a little more fashion-oriented. Colette gave us a whole window in the store to present the magazine. 

Will you have male photographers in the next issue?
Yes. I want to keep presenting a women's point of view on erotica, but I think it's also open to men as well. I would hate anyone to say that the magazine is feminist. I would hope that a man can enjoy it as well. When I say feminism, I mean the kind that is very extreme. When it comes to religion or any point of view, if you become extreme in your beliefs then you lose yourself, and lose balance, and lose touch with reality. Obviously I want to support women, and I believe in women, and I think we should support each other, but we shouldn't go into extremes. Some women can get very aggressive towards men, but we need men and love men, so keeping the right balance is the most important thing.

I love that the magazine doesn't have a cover, but instead just comes in a box.
We wanted to create something erotic, so we made it without the cover in a box because it's almost like a naked body without any clothing, and you can see the spine. It's very feminine, very sensual, so when you slide it out of the box it's almost like a body sliding on sheets. It should be very fragile but strong inside. Like a woman who seems fragile but is very tough and strong.