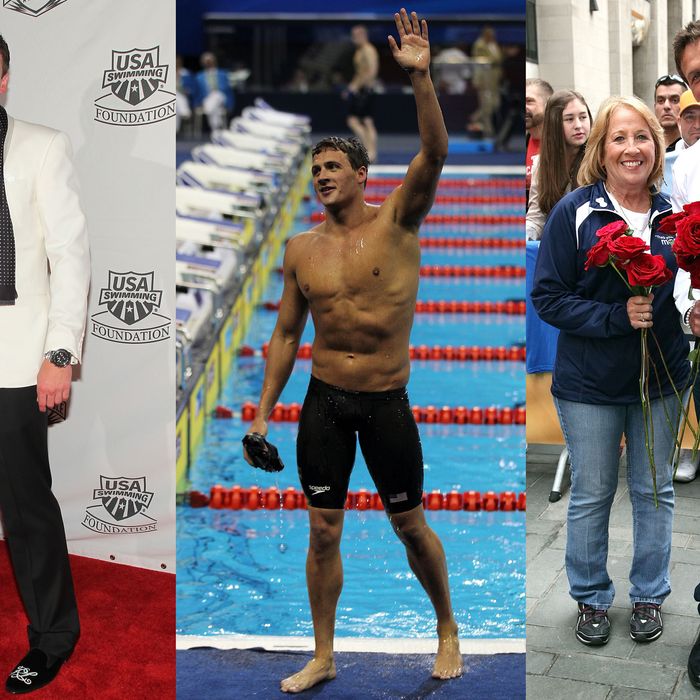 Ryan Lochte.
Photo: from left: Noel Vasquez/Getty Images for USA Swimming, Feng Li/Getty Images, Paul Zimmerman/Getty Images for P&G
Ryan Lochte is a great-looking man who has proclaimed his interest in the fashion world numerous times over the years. This summer, he landed a Vogue cover and looked really hot in the accompanying editorial. He's also possibly the fastest swimmer on the planet, which is nice for all of us who hope to see him shirtless on TV as much as possible. In other words, he's The Cut's favorite Olympic athlete. Today, WWD called his style "sartorial suicide," saying he looks like a Chippendales dancer "drowning in bad decisions." We beg to differ. Sure, that white jacket/grey scarf/black slippers combo (above, left) looks cheesy, but come on: This is the guy who gives his mom red roses on the Today show (above, right)! This is a man who embraces cheesy, and in turn, we embrace him.
So, without further ado, here's a new video from "Team Lochte" of Ryan saying "Jeah." It sums up pretty much everything we like about him.