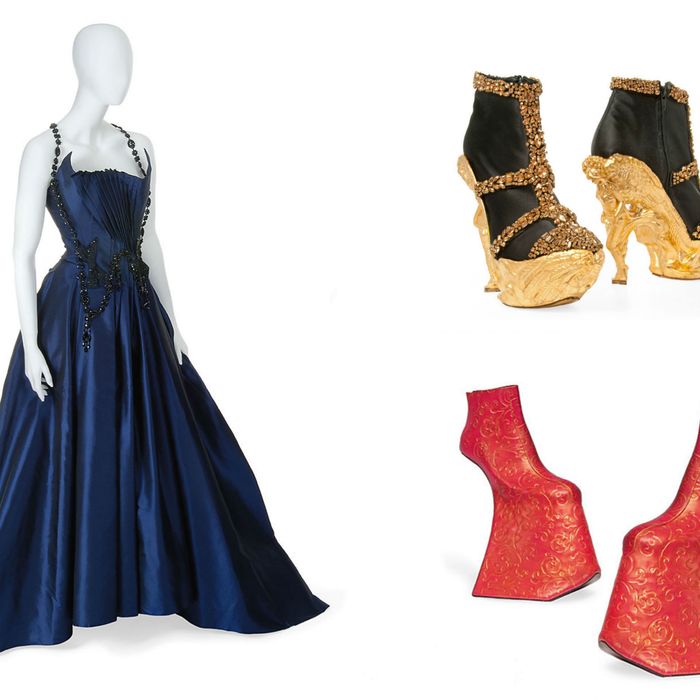 Items from Daphne's closet, soon up for auction!
Photo: Christie's
As previously reported, Daphne Guinness is selling a boatload of her clothes and shoes at Christie's to raise money for her charity. The auction catalogue is now online, complete with descriptions, price estimations, and other fascinating tidbits like this caption next to a pair of Alexander McQueen heels: "These shoes are probably Daphne's favourite pair within the sale; angel heels are exquisite and remind her of Lee's interest in the celestial." Needless to say, the dress sizes are all miniscule — not that you're really supposed to wear these clothes, of course — and most of the shoes are a delicate size 37, in case you're curious. The full catalogue is well worth a perusal, should you be prepared for your own wardrobe to seem like a boxful of meager rags in comparison. 
So, about the prices: Will any of this stuff be even slightly affordable? Or, say, less expensive than the same item's retail price? It will obviously depend on how rabid the bidding gets, but you'll find things like a tulle Lanvin dress from 2006 from $610 to $1,200, a Lacroix opera coat from $910 to $1,800, and a beaded silk Alexander McQueen gown from 2009 from $23,000 to $30,000. In other words, you won't find great bargains here, which isn't a huge surprise. The auction will take place at Christie's in London on June 27.