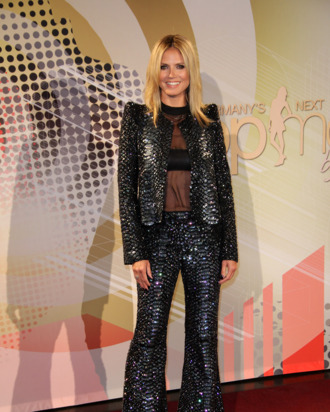 "Germany's Next Top Model" 2012 Finale with Heidi Klum photocall with models Dominique, Kasia, Sarah-Anessa, Luisa.Pictured: Heidi KlumRef: SPL398537 040612 Picture by: Ludwig / Splash NewsSplash News and PicturesLos Angeles: 310-821-2666New York: 212-619-2666London: 870-934-2666photodesk@splashnews.com
Heidi Klum wore a pair of sequined bell bottoms and a matching blazer to the finale of Germany's Next Top Model in Cologne tonight. She paired a sheer top with what appears to be a black tube bra under the jacket.
Do you enjoy sparkly Heidi or is her look too Saturday Night Fever for your liking?