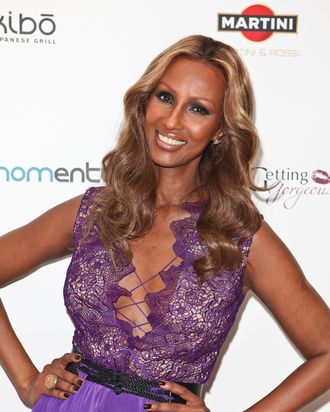 Iman.
Photo: Chelsea Lauren/Getty Images
Iman started her own cosmetics line for women of color at J.C. Penney in 1994, and the brand's sales skyrocketed to $25 million in just two years. In 2004, she signed a deal with Procter & Gamble to take her brand to the mass market, but it hasn't been an easy path. "I didn't understand that it was if they have 1,000 doors, 200 are for women of color," said Iman at WWD's Beauty CEO Summit yesterday. Distributors like Walgreens and Target responded to her products with caution and tried to place them at the back of their stores. Said Iman:
It was a no-go. They wanted me to be placed at the back, which they considered, like it is, for the ethnic section, which I was totally against it for no other reason but 'cause also I never considered myself an ethnic brand.
Ultimately, most of Iman's business is now conducted online, since retailers wouldn't agree to put her products with the rest of their makeup. Of course, having an e-commerce-based sales model for cosmetics really stunts Iman's growth, because women usually like to look at makeup — and test it themselves — before they buy it. She knows this and wishes it could be different.
There is growth right here, if only the retailers understood it. I have customers from all over the world that look for the products, but I also have customers in the U.S. that can't find the product in a store near them.
Further proving that she knows her customers best, she launched a liquid foundation last year, despite discouragement from retailers who thought no one would buy it.
Last year, I decided to create a liquid foundation, which I have been told numerous times by the retailers, "Oh, black women don't buy liquid foundation," right?
Um, do black women have skin? And zits and wrinkles and other cosmetic annoyances? Within three months, Iman says, the liquid foundation became her top-selling item. Moral of the story: Retailers, put makeup for black women in your makeup aisle. It's ridiculous that this is an issue today.