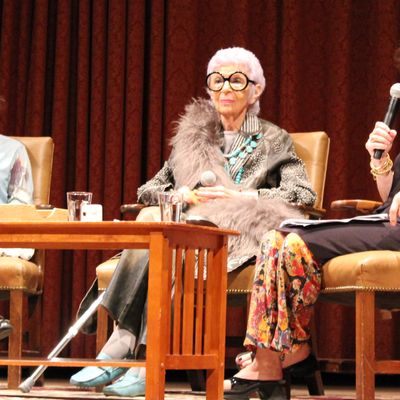 Tavi Gevinson, Iris Apfel, and Judith Thurman.
Photo: Courtesy of the Metroplitan Museum of Art
Flatforms stampeded into the Metropolitan Museum on Sunday, where The New Yorker's Judith Thurman hosted the talk Good Taste/Bad Taste: The Evolution of Contemporary Chic. She was joined by Iris Apfel, 90, who has described herself as "the oldest teenager in the world" and Tavi Gevinson, 16, who could be characterized the same way. Naturally, the women talked a lot about getting dressed, which both agreed should never be a source of stress. "When the fun goes out of it," said Apfel, "you might as well be dead." Asked whether the question of "good taste" was relevant, Tavi said no, that she thought taste was as subjective as a sense of humor. Apfel (borrowing from Diana Vreeland) said that if anything, some women "suffer from too much good taste" and look uptight as a result. "The fashion police are not going to come and take you away," she said. "And if they do, you might have some fun in jail."
Apfel remembered one particularly epic outfit she wore in the forties, soon after she'd left NYU for the University of Wisconsin. She described "a vision" she had of herself in a big gingham turban, large hoop earrings, a crisp shirt, and blue jeans. Back then in Wisconsin, she said, "the only people who wore jeans were Paul Bunyan and a few lumberjacks," but she persisted until the army/navy store mail-ordered her a pair of boys' dungarees to complete the look. "It was really smashing," she recalled.
Tavi, on the other hand, said she takes a collage-like approach, combining bits and pieces to tell a story with her outfit. (Her story yesterday involved a smooth blond ponytail with straight bangs, matte raisin lipstick, glossy black high-tops, and a pleated "lips" skirt from Prada's 2000 collection — when the blogger would have been about 4 years old.) She said she doesn't always care whether she looks attractive and that curiosity and confidence go much further than a conventional look, particularly when it comes to finding kindred spirits — or as she puts it, "a similar group of weirdos." 
Both women said they'd love to see a Costume Institute Exhibit dedicated to older women. "I think there's a big, big revolution undercover," said Apfel. "Older women are coming out of the woodwork." Indeed, Ari Seth Cohen, whose Advanced Style book and documentary were featured in Sunday's New York Times, was in the audience, as was Albert Maysles, who's shooting a documentary about Apfel. Afterwards, while we waited for the crowd to clear, The Cut asked Maysles how Apfel compared to subjects like the Rolling Stones and Edie Beale. "She's right up there," he said. "She calls herself a geriatric starlet."  
Starlet or not, Apfel said she can't work creatively when she's dolled up. Similarly, Tavi also said she's in pajamas the second she gets home from school at 3 p.m., and Thurman admitted she regularly works from home in pajamas and yoga clothes. "I'm freer when I'm not dressed up," said Apfel. "There's nothing like a good old bathrobe."